Free and accurate daily horoscope of 24 July 2021

By Karmaweather - 26 February 2019
© KarmaWeather by Konbi - All rights reserved

Chinese calendar:
Day of the Water Rooster
Month of the Wood Goat
Year of the Metal Ox

Free Chinese Daily Horoscope for: Rat (Mouse), Ox (Buffalo), Tiger, Rabbit (Hare, Cat), Dragon, Snake, Horse, Goat (Sheep), Monkey, Rooster (Chicken), Dog and Pig (Wild Boar)
Characteristics of 24 July 2021
Polarity of the day: Yin
Polarity of the month: Yin
Polarity of the year: Yin
Marriage and love: Inauspicious
Favorable directions: West
Lucky colors: White, Golden, Gray
Energetic chart: Excess Metal
Destiny of birth (Yi Jing): The supply of the little one
Boy's first names: Auriel, Egmont, Elven, Gilberto, Guillem
Girl's first names: Aurélie, Eileen, Guénola, Odalis, Tea

Daily horoscope of 24 July 2021
Water Rooster Day
The Water Rooster is the most open-minded of all Roosters, even if his personality retains a strong dose of conservatism coated with a formal plumage, without which he would not really live up to his zodiacal sign. The Water Rooster is a pragmatic being, gifted for everything he undertakes, although he can sometimes be handicapped by his immoderate taste for the superfluous. His excessive ambition and his interest in very diverse subjects tend to make him lose time in his projects. However, his charm and ability to attract faithful and devoted friends around him allow him to compensate for his shortcomings and weaknesses, which are still quite rare. Today, the energies of the Chinese zodiac sign of the Water Rooster favor artistic crafts. If you are married, enjoy a quiet evening at home. If you are single and you have a romantic appointment, don't get impressed by your partner's fiery declarations during your date, even though it's always nice to receive such nicely turned compliments.
15th Lunar Mansion: the Fork
The lodge of the Fork is unfavorable. Thursday, the Wood element and the planet Jupiter are symbolically attached to this house. On a professional level, it's preferable to avoid starting a new project during this day. As a family and as a couple, it is better to remain discreet and avoid any polemic discussion. It's strongly advised to rest during this period. If you have a lawsuit on that day, ask your lawyer if it may be possible to adjourn it.
Daily food and diet's horoscope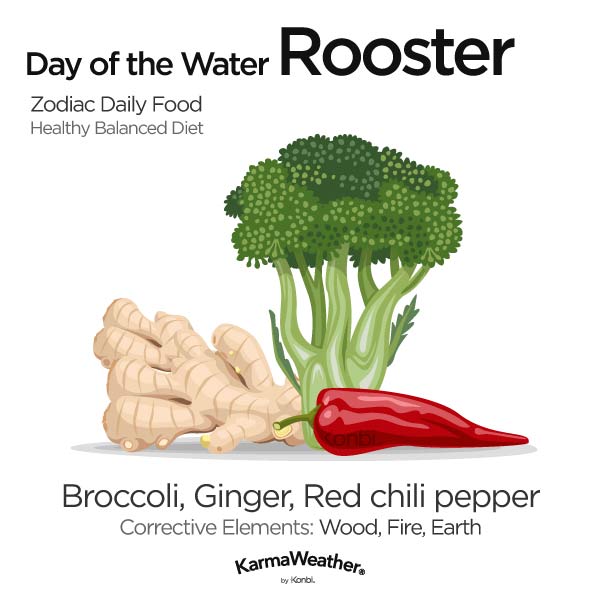 Chinese stone of birth
Corrective stone of the day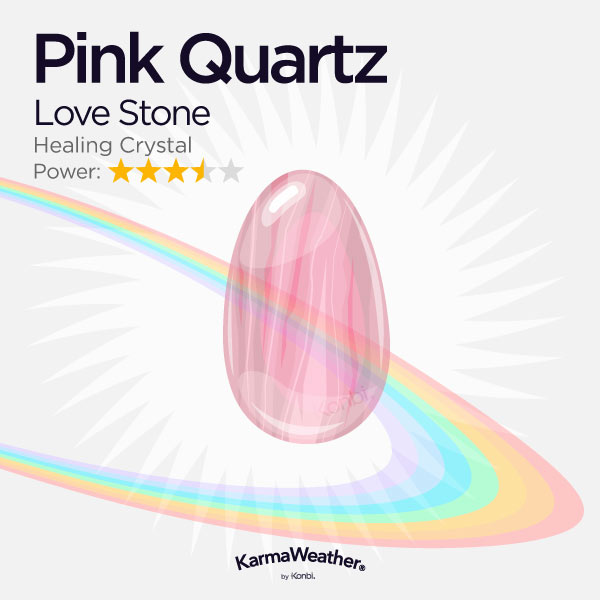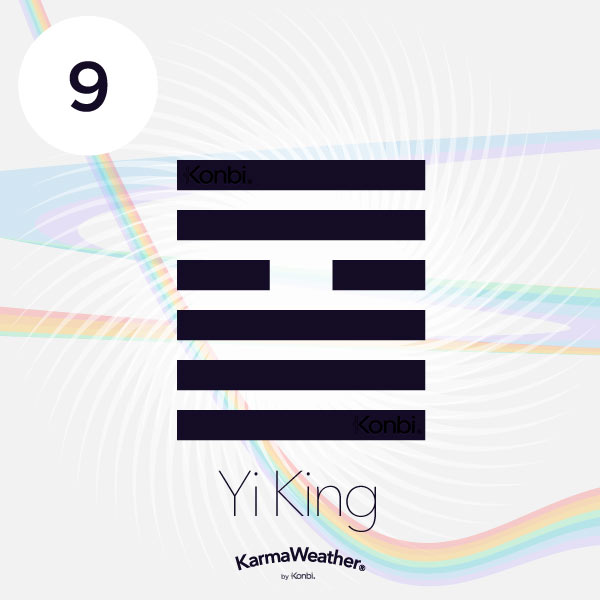 Yi Jing hexagram of the taming of the little one (小畜, xiǎo chù)
Water Rooster's Pillar of Destiny
"The steel of the tip of the sword" (Yin)