Year of the Rat: Personality, Fortune, Compatibility
🐭 Year of the Rat: Men and women born in 1924, 1936, 1948, 1960, 1972, 1984, 1996, 2008 and 2020 are of the Chinese zodiac sign of the Rat
By KarmaWeather - 24 June 2015
© KarmaWeather by Konbi - All rights reserved
Year of the Rat's Chinese horoscope, exact birth dates, meaning, character and personality traits, zodiac element, love compatibility match, fortune and lucky stones
Year of the Rat: In brief
The Rat is one of the most clever and gifted animals out of the 12 zodiac signs of the Chinese horoscope. The Chinese zodiac sign of the Rat, pleasant and seductive, possesses extraordinary abilities that allow him to emerge victorious from the most delicate situations. The Rat is also one of the most charming and sociable Chinese zodiac signs. He loves to party until dawn with his many friends.
Very comfortable in society, it is difficult to resist his sense of humor, as he manages to deal with salacious subjects with a surprising subtlety.
📅 2020 & 2021 Chinese zodiac predictions for the Year of the Rat:
Year of the Rat's birth dates
🐭 Rat calendar years
- Years and elements of birth for the Chinese zodiac sign of the Rat according to the Chinese lunisolar calendar:
Year of birth
Exact date range
Chinese year name
1924
05/02/1924
24/01/1925
Yang Wood Rat Year
1936
24/01/1936
10/02/1937
Yang Fire Rat Year
1948
10/02/1948
28/01/1949
Yang Earth Rat Year
1960
28/01/1960
14/02/1961
Yang Metal Rat Year
1972
15/02/1972
02/02/1973
Yang Water Rat Year
1984
02/02/1984
19/02/1985
Yang Wood Rat Year
1996
19/02/1996
06/02/1997
Yang Fire Rat Year
2008
07/02/2008
25/01/2009
Yang Earth Rat Year
2020
25/01/2020
11/02/2021
Yang Metal Rat Year
Year of the Rat: Personality horoscope
Knowing perfectly how to make his interlocutors feel comfortable, the Rat nevertheless abstains from establishing a balance of power within the limited framework of a discussion. He is indeed sufficiently sophisticated and cunning to almost never need to resort to primitive forms of communication, such as intimidation or violence.
The Rat has a very dynamic and positive personality, which helps him set ambitious life goals for himself. Moreover, his meticulous and persevering nature allows him to successfully complete long-term projects.
His undeniable magnetism and intelligence arouse the curiosity and fascination of both his friends and his enemies, who fear him with reason. The Rat having the defects of his qualities, he will not hesitate to use the most obscure subterfuges to obtain what he seeks, for the pleasure of the game, to earn money easily or to take revenge on someone who would have had the presumption of stealing him.
Indeed, of a subtle and penetrating nature but also opportunistic and greedy, the thirst for wealth of the Rat seems disproportionate and his will to climb the social ladder insatiable. He might well and wrongly be suspected to be venal. However, money is in fact for him the only guarantee of security that can appease his existential anxieties.
In a romantic relationship, the person born during the Chinese Year of the Rat is very passionate and involved in his couple and marriage. However, when he feels betrayed or neglected emotionally, he can easily let his heart dominate him. After a break-up, like a soul in pain, he wanders in constant agitation, between the warmth and the coldness of his lost hopes. Fortunately, he usually quickly gets back to his senses, because he can't stand to stay alone for too long. Individualistic when it comes to his own interests and his wallet, he doesn't have a particular liking for loneliness and is fully aware of what a warm and loving home can bring as benefits.
Also read the Rat's combined personality horoscope with Aries, Taurus, Gemini, Cancer, Leo, Virgo, Libra, Scorpio, Sagittarius, Capricorn, Aquarius and Pisces.
Chinese zodiac Rat's best jobs and careers
Businessman, entrepreneur, PR consultant, politician, writer, actor, artist, athlete
Year of the Rat: Fortune
Lucky Colors of the Rat
Red, black
Lucky Numbers of the Rat
1, 5, 9
Rat (zodiac) eminent personalities
Celebrities born in the Year of the Rat
Tim Cook, Mark Zuckerberg, Scarlett Johansson, Antonio Banderas, Zinedine Zidane, Camille Claudel, Claude Monet, Benigno Aquino III, George H. W. Bush, Charles Prince of Wales, Prince Harry of Wales, Pope Francis (Franciscus), Richard Nixon, LeBron James, Cristiano Ronaldo, Lewis Hamilton, Katy Perry, Avril Lavigne, Omarion, Lil Peep (Gustav Åhr), RiceGum, Tom Holland, Carter Reynolds, FaZe Rug, Lele Pons, Liza Koshy, Benjamin Pavard, Eminem (Marshall Bruce Mathers III)
Year of the Rat: Love compatibility
The Rat's Chinese zodiac compatibility triangle
The Rat, the Dragon and the Monkey are part of the first compatibility triangle of Chinese astrology. Indeed, the Rat, first sign-animal of the zodiac in the Chinese calendar, gets along naturally with the Dragon and the Monkey.
All 12 zodiac signs of the Chinese horoscope also have a secret friend: the Ox (Buffalo) is the secret friend of the Rat. However, also note that the Chinese Zodiac sign of the Rat is incompatible with the Horse.
Astrology tip: to better understand his Daily Chinese Horoscope, regardless of the specific interpretation of the current Chinese New Year, the Rat should monitor the days and months governed by the energetic influence of the Horse. Thus, the Rat is advised not to take any important decision during a Day of the Horse.
Year of the Rat: Birthstones
Rat Chinese zodiac lucky stones: Amazonite, Amethyst, Aquamarine, Azurite, Black Noble Opal, Black Tourmaline, Blue Calcite, Blue Chalcedony, Ceylon Sapphire, Hawk's Eye, Purple Fluorite, Labradorite, Lapis Lazuli, Rainbow Obsidian, Rainbow Fluorite, Tiger Iron, Turquoise
Chinese Horoscope for Fire, Earth, Metal and Water Rats
Below, in accordance with the Chinese horoscope, you will find a detailed description of the personality and specificities of the 5 existing types of Rat, which associate the terrestrial branch of the Rat with the 5 Yang celestial trunks of WuXing and Feng Shui (Yang Wood, Yang Fire, Yang Earth, Yang Metal, Yang Water). Indeed, the Rat being a Chinese astrological sign with Yang polarity, the elements of Nature to which he can be connected are always in their Yang form. Likewise, for each Rat associated with his celestial trunk (Wood Rat, Fire Rat, Earth Rat, Metal Rat, Water Rat), discover the pillar of destiny he is associated with and its meaning, in relation to its imagined destiny.
🌳 Wood Rat
Characteristics: You're a Wood Rat if you're born in 1924 or 1984. In 2020, you're 96 or 36 years old. Your lucky number is 1.
Personality: People born in the Year of the Wood Rat are alert and curious. Their urge to achieve great deeds in life can sometimes put a Wood Rat into hazardous situations. Opportunistic and pragmatic at the same time, the Wood Rat shows remarkable flexibility. Precise, astute, intelligent, but also passionate and anxious, the Wood Rat stands out by his prodigality and his flair for business. The Wood Rat can excel in any artistic field, provided he manages to persevere in his efforts. If faced with a job or a lifestyle that doesn't suit him, the Wood Rat can easily let himself wither altogether.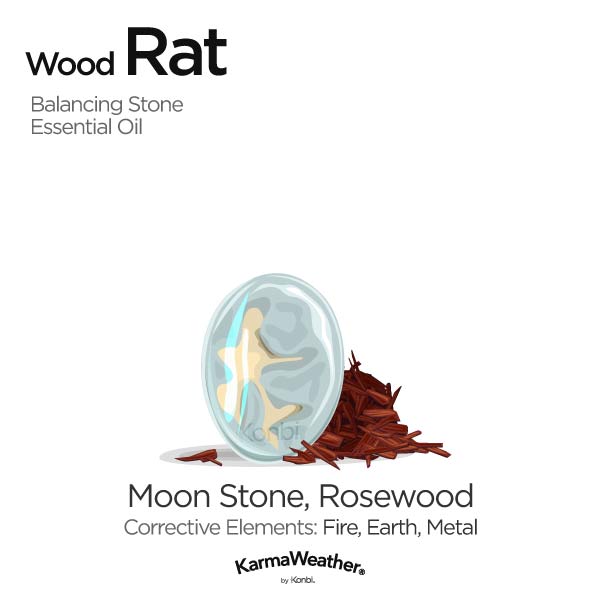 Wood Rat's Pillar of Destiny
Imaged destiny: "The gold at the bottom of the ocean" (Yang)
Meaning of the Wood Rat's birth pillar: Inhibition of creative momentum, difficulty getting out of one's own comfort zone, need of a sustained effort to succeed.
🐭🌳 Learn more about the Year of the Wood Rat
🔥 Fire Rat
Characteristics: You're a Fire Rat if you're born in 1936 or 1996. In 2020, you're 84 or 24 years old. Your lucky number is 12.
Personality: Creative and sociable, people born in the Year of the Fire Rat can only feel at peace and balanced in tangible situations. The Fire Rat is the most generous of his peers, but also the most unruly. Fiercely independent, he's however deeply devoted and chivalrous towards the persons he loves.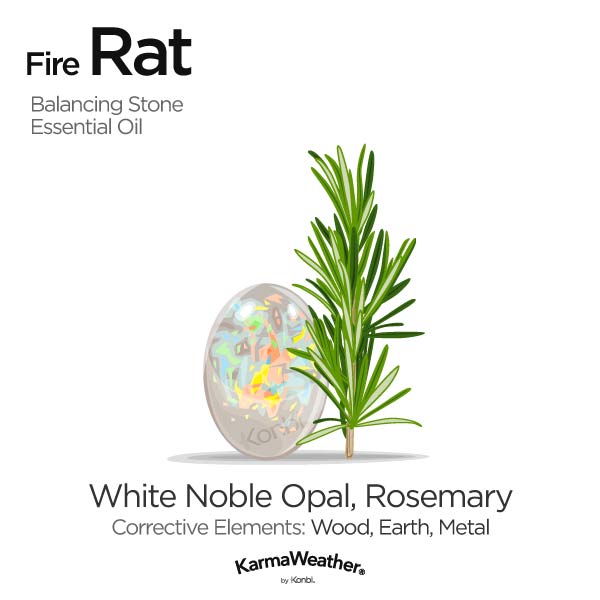 Fire Rat's Pillar of Destiny
Imaged destiny: "Water that penetrates and fertilizes" (Yang)
Meaning of the Fire Rat's birth pillar: Anticipation of actions, transmission of knowledge, enthusiasm overflowing with intentions to the disadvantage of achievements (indecisiveness).
🐭🔥 Learn more about the Year of the Fire Rat
🗿 Earth Rat
Characteristics: You're an Earth Rat if you're born in 1948 or 2008. In 2020, you're 72 years old or 12 years old. Your lucky number is 25.
Personality: People born in the Year of the Earth Rat take great care in preserving their tranquility. Earth Rats also need to be reassured by a job remunerative enough to preserve their material comfort in old age. The Earth Rat is the most greedy and the most conservative of his peers. Highly intelligent, he excels in professions that require analysis and organization. Not as interested in the accumulation of money and riches of all kinds as other Rats, the Earth Rat nevertheless works to maintain cordial relations with those less fortunate than himself. Possessive, even stingy when material assets are involved, the Earth Rat may however, while he gets older, learn to appreciate the benefits of generosity.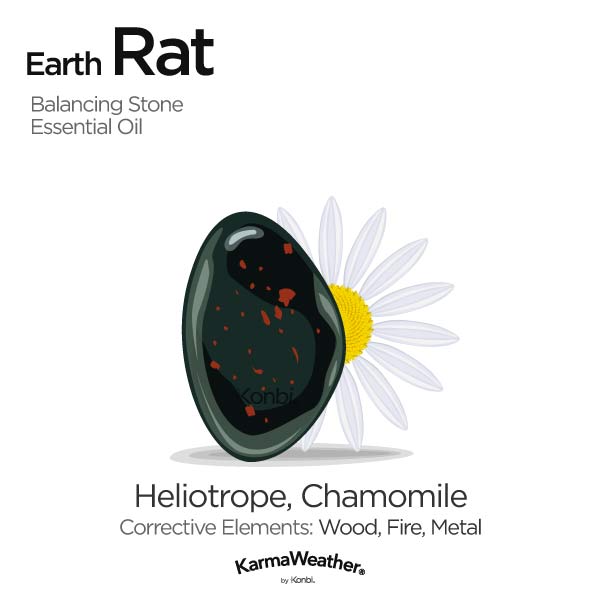 Earth Rat's Pillar of Destiny
Imaged destiny: "The fire of lightning" (Yang)
Meaning of the Earth Rat's birth pillar: Strong and combative personality, fertile imagination, gift for organization and management, subject to greed and self-satisfaction.
🐭🗿 Learn more about the Year of the Earth Rat
🛠 Metal Rat
Characteristics: You're a Metal Rat if you're born in 1960 (New Year 2020 will be the next Metal Rat generation to come). In 2020, you're 60 years old. Your lucky number is 37.
Personality: A whole character in everything they do, people born in the Year of the Metal Rat love their freedom more than anything else, and hate being prompted or forced into a situation they dislike or have no interest for. The Metal Rat is the most jealous and most domineering of his peers. His thirst for recognition and admiration doesn't seem to have any limits. Brilliant and ingenious when it comes to finding solutions to difficult problems, the Metal Rat however finds it very difficult to accept and learn from his failures. As he rarely enjoys any type of solitude, when he happens to be deprived of the unwavering moral support of his family, the Metal Rat becomes prone to depression. Smart and emotional when he's in a good mood, it's also important to note that he's considered to be the most generous of all Rats.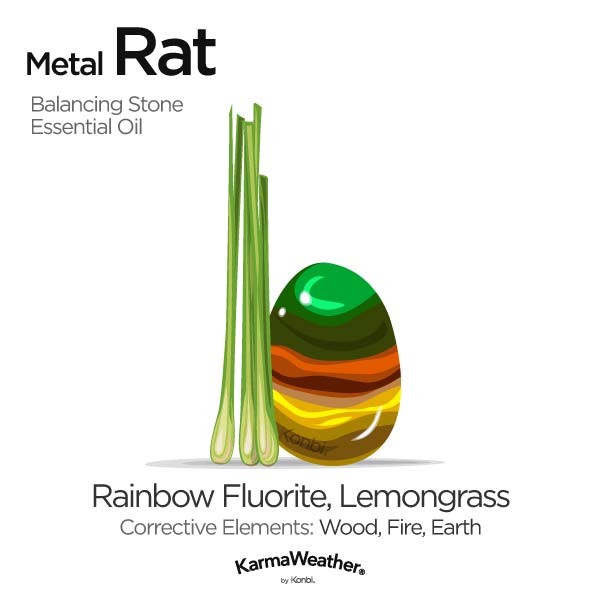 Metal Rat's Pillar of Destiny
Imaged destiny: "The earth of the wall" (Yang)
Meaning of the Metal Rat's birth pillar: Optimism, entrepreneurship, ability to build over time, tendency to make moral judgments (intransigence).
🐭🛠 Learn more about the Year of the Metal Rat
💧 Water Rat
Characteristics: You're a Water Rat if you're born in 1972 (New Year 2032 will be the next Water Rat generation to come). In 2020, you're 48 years old. Your lucky number is 49.
Personality: The people born in the Year of the Water Rat can tolerate many things to get a benefit from their patience and efforts. The more money a Water Rat earns, the better he / she works. The Water Rat is the most secret, but also the most tender of all Rats. Extremely pragmatic and farsighted, the Water Rat does not engage in a relationship unless he sees some value in it. Very sociable, enjoying a good chat, but also discreet and solitary depending on his mood, the Water Rat isn't the kind of Rat who will seek the spotlight at all costs. Always charming and charismatic, the Water Rat excels as much in negotiation as in revenge, brilliantly combining humor and insight in his relation with others.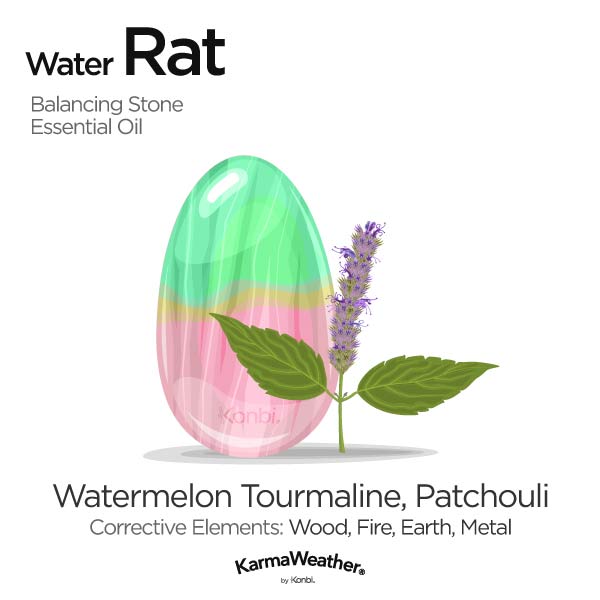 Water Rat's Pillar of Destiny
Imaged destiny: "The mulberry wood" (Yang)
Meaning of the Water Rat's birth pillar: Independence of mind and autonomy, favorable to intellectual and craft trades, risk of social isolation, sterile struggle between intuition and rationalism.
🐭💧 Learn more about the Year of the Water Rat
Chinese zodiac sign of the Rat
Main characteristics of Wood, Fire, Earth, Metal and Water Rats

© KarmaWeather by Konbi - All rights reserved
Copyright protection: Reproduction strictly forbidden without prior agreement. Any infringement will be subject to a Google DMCA request.Disclaimer notice: Please note that the use of medicinal plants, in any form whatsoever, should always be considered after consultation with a doctor, especially for pregnant or breastfeeding women, as well as for young children. In the same way, crystals and stones can only be considered as a support for medical treatment and never as a substitution. They are commonly called healing crystals for their action on the chakras, knowing that these have no application in modern medicine.