Year of the Dog (Chinese Zodiac): Personality, Fortune
🐶 Year of the Dog: Men and women born in 1922, 1934, 1946, 1958, 1970, 1982, 1994, 2006, 2018 and 2030 are of the Chinese zodiac sign of the Dog
By KarmaWeather - 28 June 2015
© KarmaWeather by Konbi - All rights reserved
The Year of the Dog
Year of the Dog's Chinese horoscope and meaning: exact birth dates and elements, characteristics and personality traits, love compatibility and zodiac lucky stones
In brief: A person born in the Year of the Dog is loyal, friendly and intelligent. The Dog is a Chinese zodiac sign who abhors injustice and always reach out to those in need, making him a natural candidate for humanitarian missions.
If the Dog is deeply fair and just with those he loves, he can also be cold and cynical towards people he doesn't appreciate. He sometimes has short spats of anger and he doesn't hesitate to bite occasionally, especially when he feels that an injustice has been committed. He is willing to be the defender of the widow and the orphan.
📅 2022 Chinese zodiac predictions for the Year of the Dog:
Year of the Dog: Personality horoscope
If the Dog is a honest, respectful and fair worker, he also appreciates laziness as a virtue. Gluttony is his sinful sin, while a tendency to hypochondria can be for him a source of anxiety that will push him to isolate himself and take refuge in a gloomy loneliness.
The Dog tends to have a Manichean vision of his relationship with others, who are either friends or enemies. This doesn't mean that he doesn't know how to be indulgent and forgive gracefully, not without having previously expressed his discontent. The Dog is also endowed with a great perspicacity and an unparalleled sense of observation, which he uses in order to better protect his house and his neighborhood, places from which he moves away as little as possible. The Dog naturally inspires confidence, which is convenient for him to convince his friends to always follow him on new journeys.
In love, the Dog is loyal, sensual and deeply devoted to his couple and his family. He may also be jealous and uncompromising, defects for which he must constantly work on himself.
If the Dog prefers to remain discreet about his private life, he never says no to opportunities that could put him in the spotlight. With age, the eleventh sign of the Chinese zodiac can become famous (and more of a loner).
Year of the Dog's birth dates
🐶 Dog calendar years
Years and elements of birth for the Chinese zodiac sign of the Dog according to the Chinese lunisolar calendar:
Year of the Dog Birth Date Ranges

| Birth Year | Date range | Chinese Year |
| --- | --- | --- |
| 1922 | 28/01/1922 - 15/02/1923 | Yang Water Dog Year |
| 1934 | 14/02/1934 - 03/02/1935 | Yang Wood Dog Year |
| 1946 | 02/02/1946 - 21/01/1947 | Yang Fire Dog Year |
| 1958 | 18/02/1958 - 07/02/1959 | Yang Earth Dog Year |
| 1970 | 06/02/1970 - 28/01/1971 | Yang Metal Dog Year |
| 1982 | 25/01/1982 - 12/02/1983 | Yang Water Dog Year |
| 1994 | 10/02/1994 - 30/01/1995 | Yang Wood Dog Year |
| 2006 | 29/01/2006 - 17/02/2007 | Yang Fire Dog Year |
| 2018 | 16/02/2018 - 04/02/2019 | Yang Earth Dog Year |
| 2030 | 03/02/2030 - 22/01/2031 | Yang Metal Dog Year |
Also read the Dog's combined personality horoscope with Aries, Taurus, Gemini, Cancer, Leo, Virgo, Libra, Scorpio, Sagittarius, Capricorn, Aquarius and Pisces.
Chinese zodiac Dog's best jobs and careers
Pop star, judge, lawyer, teacher, physician, entrepreneur, artist, military careers, religious vocations, animal rights defender, politician, policeman
Year of the Dog: Fortune
Lucky Colors of the Dog
Black, blue
Lucky Numbers of the Dog
3, 7, 11
Dog (zodiac) eminent personalities
Celebrities born in the Year of the Dog
Giorgio Armani, Kevin Bacon, Alec Baldwin, Brigitte Bardot, Angela Basset, Gian Lorenzo Bernini, George Best, Justin Bieber, Jessica Biel, George W. Bush, Tim Burton, Mariah Carey, Paul Cézanne, Winston Churchill, Bill Clinton, Gabriel Conte, Jamie Lee Curtis, Ted Cruz, Cameron Dallas, Matt Damon, Judi Dench, Kirsten Dunst, Ansel Elgort, Fairuz, Jordan Fisher, David Gilmour, Danny Glover, Jane Goodall, Al Green, Christina Grimmie, Keith Haring, Herbert Hoover, Michael Jackson, Tommy Lee Jones, Kim Jong-un, Ricardo Kaká, Gustav Klimt, Queen Latifah, Sophia Loren, Madonna, René Magritte, Golda Meir, Freddie Mercury, Nicki Minaj, Kim Namjoon, Ellen Ochoa, Gary Oldman, River Phoenix, Prince, Carl Sagan, Susan Sarandon, Steven Spielberg, Sylvester Stallone, Uma Thurman, Neil deGrasse Tyson, Donald J. Trump, Melania Trump, Lil Uzi Vert, John Craig Venter, Gianni Versace, Voltaire, Lil Wayne, Prince William of Cambridge, Prince Louis of Cambridge, RM and J-Hope (BTS members)
Year of the Dog: Love compatibility
The Dog's Chinese zodiac compatibility triangle
The Dog, the Tiger and the Horse are part of the third compatibility triangle of Chinese astrology. Indeed, the Dog, eleventh sign-animal of the zodiac in the Chinese calendar, gets along naturally with the Tiger and the Horse.
All 12 zodiac signs of the Chinese horoscope also have a secret friend: the Rabbit (Hare, Cat) is the secret friend of the Dog. However, also note that the Chinese Zodiac sign of the Dog is incompatible with the Dragon.
Today's Chinese Horoscope for the Dog
KarmaWeather's Free Daily Dog Horoscope offers unique and accurate predictions for the 11th Chinese zodiac sign. To better understand his Chinese daily horoscope, regardless of the specific interpretation of the consulted period of the current Chinese year, the Dog must monitor the days and months governed by the energetic influence of the Dragon (in particular, avoid any trip, operation or signature of contract). On the other hand, the days of the Dog, the Tiger, the Horse and the Rabbit are lucky days for the Dog.
Year of the Dog: Birthstones
Dog Chinese zodiac lucky stones: Bronzite, carnelian, cat's eye, chrysoberyl, citrine, eudialyte, golden rutilated quartz, golden topaz, manganocalcite, moonstone, rainbow fluorite, septaria, silver rutilated quartz, tiger's eye, tiger iron, white noble opal, yellow citrine
Chinese Horoscope for Fire, Earth, Metal and Water Dogs
Below, in accordance with the Chinese horoscope, you will find a detailed description of the personality and specificities of the 5 existing types of Dog, which associate the terrestrial branch of the Dog with the 5 Yang celestial trunks of WuXing and Feng Shui (Yang Wood, Yang Fire, Yang Earth, Yang Metal, Yang Water). Indeed, the Dog being a Chinese astrological sign with Yang polarity, the elements of Nature to which he can be connected are always in their Yang form. Likewise, for each Dog associated with his celestial trunk (Wood Dog, Fire Dog, Earth Dog, Metal Dog, Water Dog), discover the pillar of destiny he is associated with and its meaning, in relation to its imaged destiny.
🌳 Wood Dog
Characteristics: You're a Wood Dog if you're born in 1934 or 1994. In 2022, you're 88 or 28 years old. Your lucky number is 11.
Personality: The native of the Year of the Wood Dog is endowed with a noble, stable and powerful personality. The Yang Wood element brings to the Wood Dog his creative qualities, his generosity and his balance in his relations with others. Disinterested, honest and devoted to his family, but also capable of sporadic anger, the Wood Dog is above all an epicurean, usually an excellent cook, and always charming and popular with his friends. His professional ambition and his material comfort can only develop if he learns to rely more on himself, while taking care to listen to the people of trust who surround him.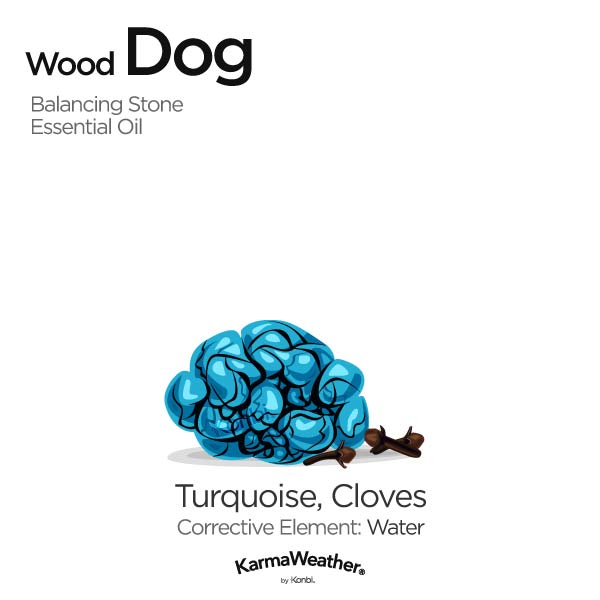 Wood Dog's Pillar of Destiny
Imaged destiny: "Fire at the top of the mountain" (Yang)
Meaning of the Wood Dog's birth pillar: Solid ambition, exemplarity, clairvoyance and kindness, empathy and protection, social ascent supported by a keen sense of concrete realities, possible difficulty in expressing emotions clearly.
🔥 Fire Dog
Characteristics: You're a Fire Dog if you're born in 1946 or in 2006. In 2022, you're 76 or 16 years old. Your lucky number is 23.
Personality: The person born in the Year of the Fire Dog is the most optimistic of his fellows, but also the most theatrical, even insolent when he feels attacked. Pleasant and festive, seductive but faithful, he has the qualities that make him a great friend and an ideal lover. His independence and his strength of character, his revolted side against the injustices of the world, add to his Hollywood-like charisma. In general, the Fire Dog prefers the company of older people than himself, whose knowledge and wisdom make him more serene in his daily life. Incorruptible, the Fire Dog doesn't hesitate to show the fangs, and even to bite, when he considers that a situation has degenerated too much to his liking.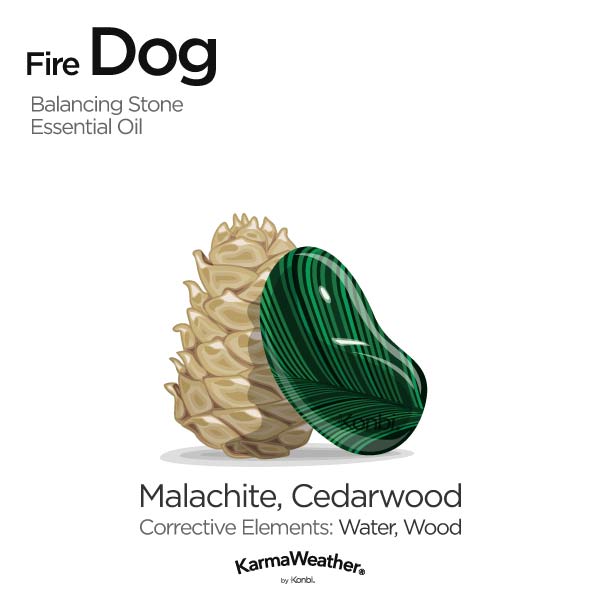 Fire Dog's Pillar of Destiny
Imaged destiny: "Earth on the roof" (Yang)
Meaning of the Fire Dog's birth pillar: Protection and good luck, importance of family and ancestors, prestige and dynastic power, adapted to political and legal professions, risk putting personal interests above common interests.
🗿 Earth Dog
Characteristics: You're an Earth Dog if you're born in 1958. In 2022, you're 64 years old. Your lucky number is 35.
Personality: The native of the Year of the Earth Dog has a responsible character, and he makes his decisions for the collective interest. Skilled in mediation, the Earth Dog is also pragmatic, calm and serene. Gentler in approach than his fellow Dogs, his flair and his insight are very developed. Always cautious and alert, sometimes undecided, the Earth Dog doesn't lose his biting skills when he feels threatened or betrayed by someone he had previously gratified of his friendship.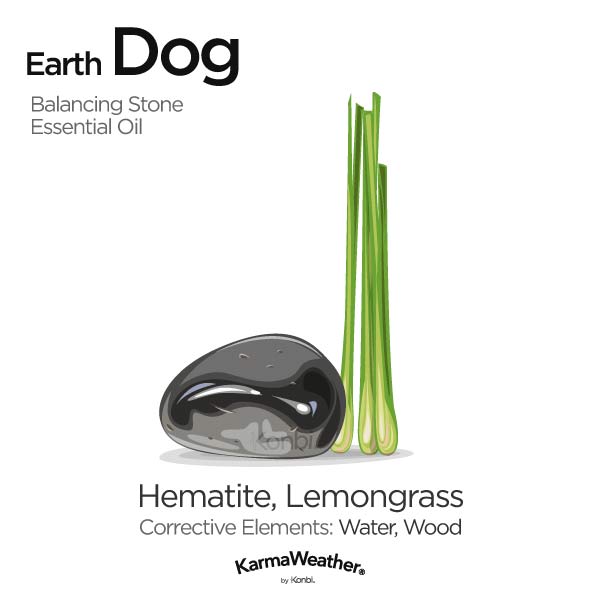 Earth Dog's Pillar of Destiny
Imaged destiny: "The wood of the plains" (Yang)
Meaning of the Earth Dog's birth pillar: Great creativity, generosity, fertility and sense of family, ability to make objective judgments, risk of frustrations and unfinished achievements due to possible difficulties in channeling an overflowing energy.
🛠 Metal Dog
Characteristics: You're a Metal Dog if you're born in 1970 or 2030 (on Chinese New Year 2030, the next generation of Metal Dogs will be born). In 2022, you're 52 years old. Your lucky number is 47.
Personality: The person born in the Year of the Metal Dog can be cold and severe in his relationship to others. Honorable, austere but charitable, his personal interests closely related to the good he can do around him. It's better not to make an enemy of of him, because the Metal Dog is a tenacious opponent, who doesn't let go the trace of his prey once the hunt is launched. Conservative and patriotic, rarely in doubt of himself, the Metal Dog usually appreciates the military, political, justice and police careers.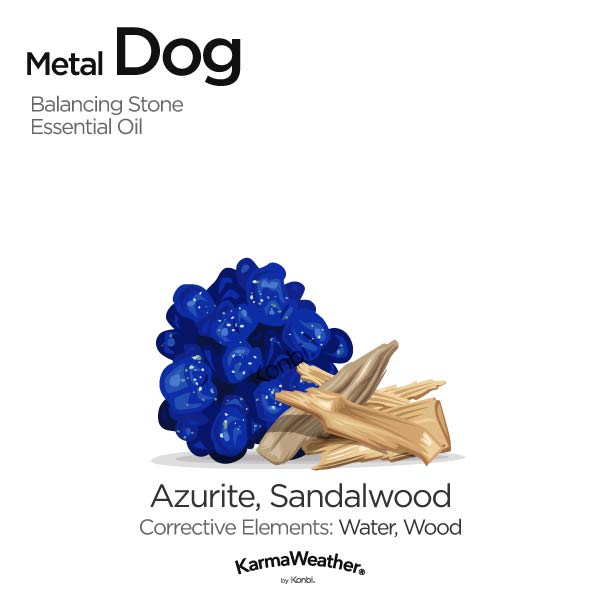 Metal Dog's Pillar of Destiny
Imaged destiny: "Gold ornaments and hairpins" (Yang)
Meaning of the Metal Dog's birth pillar: Luck and fortune at hand, exacerbated charisma, qualities of dialogue and force of conviction, ideal for those who choose the professions of politics, diplomacy, law, commerce and marketing, taste for power and pleasure in confrontation (at the risk of losing your skills).
💧 Water Dog
Characteristics: You're a Water Dog if you're born in 1922 or 1982. In 2022, you're 100 or 40 years old. Your lucky number is 59.
Personality: The native of the Year of the Water Dog has the sharpest instinct of his fellows. His sense of smell and his perspicacity are qualities that allow him to always find his way and rarely go wrong. Pleasant and gifted, with an attentive ear for his friends, the Water Dog is overflowing with charm. Refined and eloquent, his company is always pleasant, especially since of all Dogs he is the least authoritarian and the most tolerant.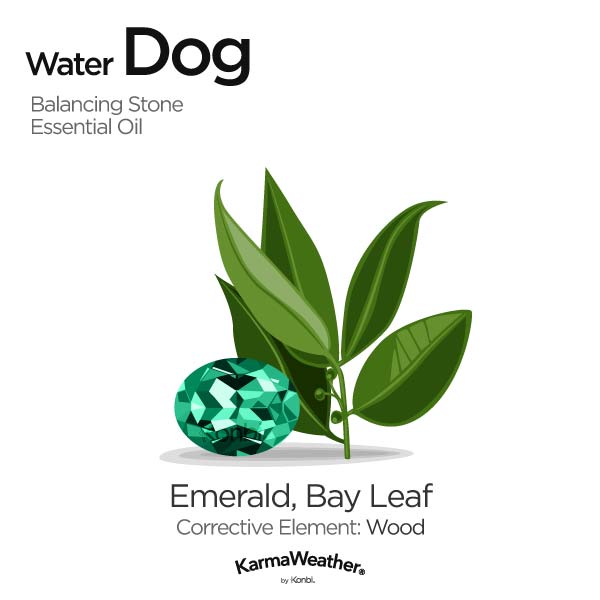 Water Dog's Pillar of Destiny
Imaged destiny: "The water of the great ocean" (Yang)
Meaning of the Water Dog's birth pillar: Exceptional learning and knowledge-building capacities, preference for consultancy and administration, remarkable analytical skills, risk of obstinacy and rigidity in the face of the unknown.
Chinese zodiac sign of the Dog
Main characteristics of Wood, Fire, Earth, Metal and Water Dogs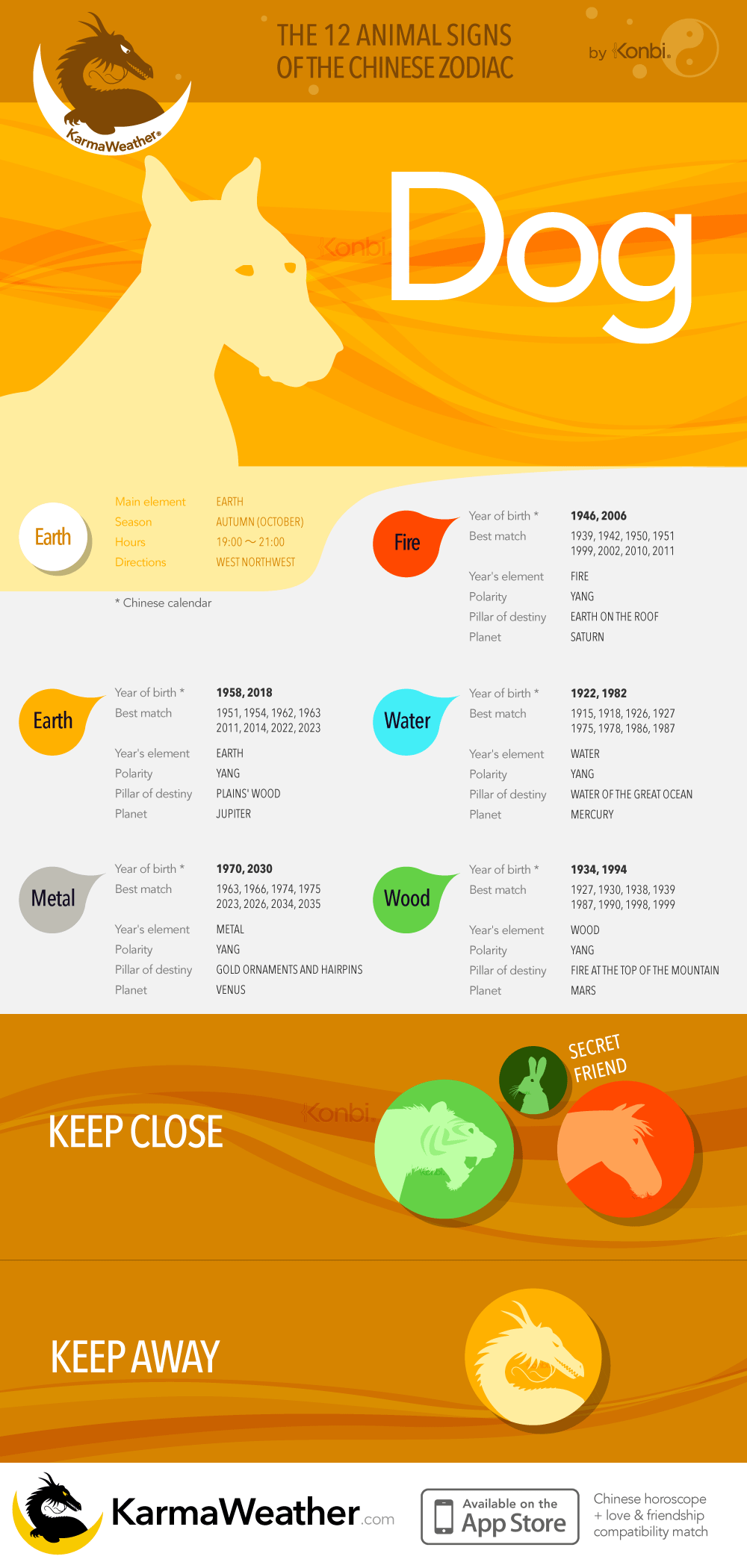 © KarmaWeather by Konbi | Copyright protection: Reproduction forbidden. Any infringement will be subject to DMCA request | Disclaimer notice: Use of medicinal plants should be discussed with a physician, especially for pregnant / breastfeeding women or children. Stones / crystals have no application in modern medicine and can't replace medical treatment.