Year of the Dog: Personality, Horoscope for 2023
🐶 Year of the Dog: Men and women born in 1922, 1934, 1946, 1958, 1970, 1982, 1994, 2006, 2018 and 2030 are of the Chinese zodiac sign of the Dog
By KarmaWeather - 30 October 2022
© KarmaWeather by Konbi - All rights reserved
The Year of the Dog
Year of the Dog's Chinese horoscope and meaning: exact birth dates and elements, characteristics and personality traits, love compatibility and zodiac lucky stones
In brief: A person born in the Year of the Dog is loyal, friendly and intelligent. The Dog is a Chinese zodiac sign who abhors injustice and always reach out to those in need, making him a natural candidate for humanitarian missions.
If the Dog is deeply fair and just with those he loves, he can also be cold and cynical towards people he doesn't appreciate. He sometimes has short spats of anger and he doesn't hesitate to bite occasionally, especially when he feels that an injustice has been committed. He is willing to be the defender of the widow and the orphan.
📅 2023 Chinese zodiac predictions for the Year of the Dog:
Year of the Dog: Personality horoscope
If the Dog is a honest, respectful and fair worker, he also appreciates laziness as a virtue. Gluttony is his sinful sin, while a tendency to hypochondria can be for him a source of anxiety that will push him to isolate himself and take refuge in a gloomy loneliness.
The Dog tends to have a Manichean vision of his relationship with others, who are either friends or enemies. This doesn't mean that he doesn't know how to be indulgent and forgive gracefully, not without having previously expressed his discontent. The Dog is also endowed with a great perspicacity and an unparalleled sense of observation, which he uses in order to better protect his house and his neighborhood, places from which he moves away as little as possible. The Dog naturally inspires confidence, which is convenient for him to convince his friends to always follow him on new journeys.
In love, the Dog is loyal, sensual and deeply devoted to his couple and his family. He may also be jealous and uncompromising, defects for which he must constantly work on himself.
If the Dog prefers to remain discreet about his private life, he never says no to opportunities that could put him in the spotlight. With age, the eleventh sign of the Chinese zodiac can become famous (and more of a loner).
Year of the Dog's birth dates
🐶 Dog calendar years
Years and elements of birth for the Chinese zodiac sign of the Dog according to the Chinese lunisolar calendar:
Year of the Dog Birth Date Ranges

| Birth Year | Date range | Chinese Year |
| --- | --- | --- |
| 1922 | 28/01/1922 - 15/02/1923 | Yang Water Dog Year |
| 1934 | 14/02/1934 - 03/02/1935 | Yang Wood Dog Year |
| 1946 | 02/02/1946 - 21/01/1947 | Yang Fire Dog Year |
| 1958 | 18/02/1958 - 07/02/1959 | Yang Earth Dog Year |
| 1970 | 06/02/1970 - 28/01/1971 | Yang Metal Dog Year |
| 1982 | 25/01/1982 - 12/02/1983 | Yang Water Dog Year |
| 1994 | 10/02/1994 - 30/01/1995 | Yang Wood Dog Year |
| 2006 | 29/01/2006 - 17/02/2007 | Yang Fire Dog Year |
| 2018 | 16/02/2018 - 04/02/2019 | Yang Earth Dog Year |
| 2030 | 03/02/2030 - 22/01/2031 | Yang Metal Dog Year |
Also read the Dog's combined personality horoscope with Aries, Taurus, Gemini, Cancer, Leo, Virgo, Libra, Scorpio, Sagittarius, Capricorn, Aquarius and Pisces.
Chinese zodiac Dog's best jobs and careers
Pop star, judge, lawyer, teacher, physician, entrepreneur, artist, military careers, religious vocations, animal rights defender, politician, policeman
Year of the Dog: Fortune
Lucky Colors of the Dog
Black, blue
Lucky Numbers of the Dog
3, 7, 11
Dog (zodiac) eminent personalities
Celebrities born in the Year of the Dog
Giorgio Armani, Kevin Bacon, Alec Baldwin, Brigitte Bardot, Angela Basset, Gian Lorenzo Bernini, George Best, Justin Bieber, Jessica Biel, George W. Bush, Tim Burton, Mariah Carey, Paul Cézanne, Winston Churchill, Bill Clinton, Gabriel Conte, Jamie Lee Curtis, Ted Cruz, Cameron Dallas, Matt Damon, Judi Dench, Kirsten Dunst, Ansel Elgort, Fairuz, Jordan Fisher, David Gilmour, Danny Glover, Jane Goodall, Al Green, Christina Grimmie, Keith Haring, Herbert Hoover, Michael Jackson, Tommy Lee Jones, Kim Jong-un, Ricardo Kaká, Gustav Klimt, Queen Latifah, Sophia Loren, Madonna, René Magritte, Golda Meir, Freddie Mercury, Nicki Minaj, Kim Namjoon, Ellen Ochoa, Gary Oldman, River Phoenix, Prince, Carl Sagan, Susan Sarandon, Steven Spielberg, Sylvester Stallone, Uma Thurman, Neil deGrasse Tyson, Donald J. Trump, Melania Trump, Lil Uzi Vert, John Craig Venter, Gianni Versace, Voltaire, Lil Wayne, Prince William of Cambridge, Prince Louis of Cambridge, RM and J-Hope (BTS members)
Year of the Dog: Love compatibility
The Dog's Chinese zodiac compatibility triangle
The Dog, the Tiger and the Horse are part of the third compatibility triangle of Chinese astrology. Indeed, the Dog, eleventh sign-animal of the zodiac in the Chinese calendar, gets along naturally with the Tiger and the Horse.
All 12 zodiac signs of the Chinese horoscope also have a secret friend: the Rabbit (Hare, Cat) is the secret friend of the Dog. However, also note that the Chinese Zodiac sign of the Dog is incompatible with the Dragon.
Today's Chinese Horoscope for the Dog
KarmaWeather's Free Daily Dog Horoscope offers unique and accurate predictions for the 11th Chinese zodiac sign. To better understand his Chinese daily horoscope, regardless of the specific interpretation of the consulted period of the current Chinese year, the Dog must monitor the days and months governed by the energetic influence of the Dragon (in particular, avoid any trip, operation or signature of contract). On the other hand, the days of the Dog, the Tiger, the Horse and the Rabbit are lucky days for the Dog.
Year of the Dog: Birthstones
Dog Chinese zodiac lucky stones: Bronzite, carnelian, cat's eye, chrysoberyl, citrine, eudialyte, golden rutilated quartz, golden topaz, manganocalcite, moonstone, rainbow fluorite, septaria, silver rutilated quartz, tiger's eye, tiger iron, white noble opal, yellow citrine
Dog's 2023 Chinese horoscope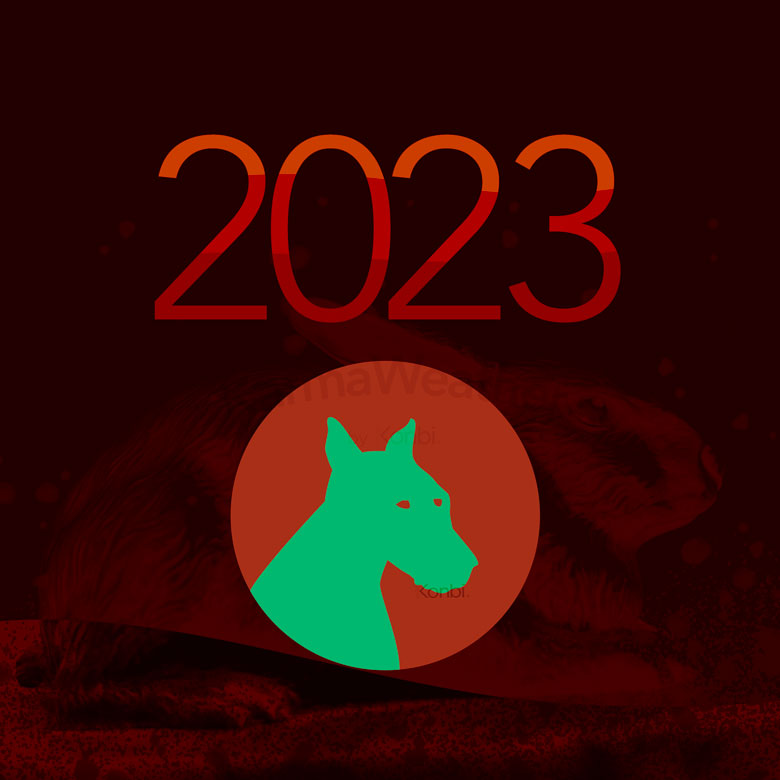 Chinese horoscope of the Dog during the Year of the Rabbit 2023, in love, work, career, health, luck, studies and travels
The Chinese horoscope for 2023 predicts a positive, serene and reasonable year, punctuated with joyful stimulations and welcome surprises. The Year of the Rabbit is the second part of a highly favorable period for the Dog. This year, he takes pleasure in taking over the endeavors that have been left aside for too long. Reassured and supported by the Rabbit, the Dog has the opportunity to discover new virtues and faculties that he did not know he possessed, due to a propensity to pessimism that never leaves him.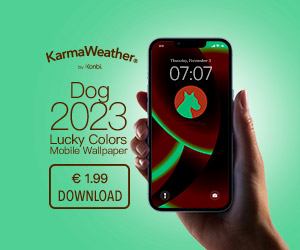 According to the career and work horoscope 2023, with enough discernment and balance, the Dog has no trouble managing his affairs in 2023. If the previous years have not always brought the benefits expected, the Dog can finally afford a comfortable lifestyle, greatly deserved. Rested and far from conflicts, he has plenty of time to develop additional activities that were close to his heart but which were not part of the daily necessity. At the same time, he manages to develop new enriching relationships, both professionally and personally. Guides, mentors and supporters will spontaneously come to support him in his projects, for his greatest happiness. Never short of ideas or motivation, the rare greyish periods will allow him to take a break before determining the rest of the path to follow.
Regarding the love horoscope 2023, the Year of the Rabbit can turn out to be that of amorous conquest for the celibate Dog. However, this lingering sense of impending success can also attract unscrupulous parasites with whom he had better not bother for too long. It is the Water element (Chinese element of the year 2023) which will remind him that it is better not to get enthusiastic with just anyone. If he wants to feel protected and fulfilled in his love life, the Dog must organize his time and select his partners in the most pragmatic way possible. Any disappointments will ultimately aim to give new impetus to his blockages, even if these will often be brutal cuts with some of the existing concerns.
🧧 Also read the free and complete 2023 Chinese horoscope
Talismans and lucky charms 2023 of the Dog
The luck of the Dog in 2023

| | |
| --- | --- |
| Rating of the year | ★★★★★★★★☆☆ |
| Resolution of the year | Unity is strength |
| Luckiest months | February 2023 (Month of the Tiger), March 2023 (Month of the Rabbit), June 2023 (Month of the Horse, October 2023 (Month of the Dog) |
| Least lucky period | April 2023 (Month of the Dragon) |
| Color 2023 | Turquoise Green, Mars Red |
| Protective Stone 2023 | Aventurine |
| Correction element 2023 | Wood |
| Chakra 2023 | Heart Chakra |
| Tarot card 2023 | The Chariot |
| Rune 2023 | Raidō (Travel) |
| Foods 2023 | Broccoli, Red myrtle |
| Flowers and Oils 2023 | Sage, Rose |
Dog Monthly Horoscope 2023
Dog January 2023

Gregorian dates of the 12th lunar month (Month of the Water Ox): from December 23, 2022 to January 21, 2023



According to the January 2023 horoscope, the Dog is having a relatively average month. A communication problem can lead him to opt for bad solutions at work. A small drop in productivity may ensue. Now is not the time to get depressed or show annoyance over fleeting events. Adapted and regular physical exercises will help him to strengthen his morale in this period marked by doubts. As for investments, this is not really the time to try your luck. There may be a hidden flaw somewhere. On the sentimental level, there are some family quarrels to manage. To succeed, the Dog has to know how to set limits to those who expect much more than they are ready to give in return. This also applies to forgiveness.

Dog February 2023

Gregorian dates of the 1st lunar month (Month of the Wood Tiger): from January 22 to February 19, 2023



According to the February 2023 horoscope, the Dog benefits from the return of favorable energies. The setbacks of the past month are finally getting better. At work, the atmosphere relaxes following comforting news for the smooth running of the company. Rumors about the existence of new, unexplored commercial avenues are becoming clearer. The Dog is aware of everything if he listens instead of running behind futile or too playful activities. For some, it might be a good time to grab a promotion. Otherwise, what's the point of falling asleep on your achievements? Counter-offensive strategies could surprise him if he does not remain lucid as to the aims pursued. Financially, investments can be profitable in the short term. In love, tending to keep your true desires hidden can be exhausting in the long run. A period of release is looming. The masks are finally falling!

Dog March 2023

Gregorian dates of the 2nd lunar month (Double Month of the Wood Rabbit): from February 20 to April 19, 2023



According to the horoscope for March 2023, the Dog is assured of an excellent month in all respects. At work, a few changes in perspective are enough to increase his enthusiasm and motivation tenfold. It would be a shame not to take advantage of it wisely. All the more reason not to be discouraged by poor reviews from those who can't stand the competition. When it comes to money, it's time to reinforce the material comfort of the home, by favoring the common areas. In love, the attractiveness of the Dog is at its highest. Flirting proposals should be studied carefully. The self-confidence is there. But watch out for ticks and other parasites that take advantage of the slightest moment of inattention to cling on.

Dog April 2023

Gregorian dates of the 3rd lunar month (Month of the Fire Dragon): from April 20 to May 18, 2023



According to the horoscope for April 2023, the Dog is going through a transitional and somewhat delicate period. At work, tensions can arise where you least expect them. Weaknesses, like any shortcomings of the Dog, can be used as weapons to destabilize him. Fortunately, effective supporters will put a spoke in the wheels of his detractors. In the professional field, mishandling must be avoided, which is why it is better to avoid entrusting too important tasks to those who are not able to assume them. In this Month of the Dragon, the Dog should patiently wait while his allies defend his own interests. Beware of betrayals that do not say their name. As for finances, it is better to avoid signing anything engaging during the month. Glitter is not to the Dog's taste. In love, too much realism can sometimes be overwhelming. The Dragon wants fantasy, it must be complied with. Impulsive behavior or incisive remarks should be avoided. Offering an accessory would prove to be much more useful in easing ongoing tensions.

Dog May 2023

Gregorian dates of the 4th lunar month (Month of the Serpent of Fire): from May 19 to June 17, 2023



According to the May 2023 horoscope, the Dog offers himself a moment of truce and postponement of conflicts. It is high time to seek solutions to the latent perils. For the Dog, this new Chinese month should give him the opportunity to assert himself differently within his company. He has a good chance of being chosen for a position of responsibility or for an important mission. Before committing, he must be able to gauge his abilities. Financially, the Dog focuses his interest on real estate. It may be the right time for a transaction. In love, the celibate Dog is on the road to success. This is no reason to err on the side of pride or delegate one's own security.

Dog June 2023

Gregorian dates of the 5th lunar month (Month of the Earth Horse): from June 18 to July 17, 2023



According to the horoscope for June 2023, the Dog can count on the Chinese month of the Horse to positively boost his projects. Wonder or mirage? This will be the lingering question that many Dogs will find difficult to pin down. At work, forgotten assets become relevant again, much to the chagrin of his detractors. In response to legitimate challenges, the Dog will do everything possible to guide lost souls on the right path. The laurels he will reap will not impress him that much. The satisfaction of a job well done remains the most comforting of rewards. On a material level, a sense of déjà vu could be hiding the reality of another underlying problem. Before any commercial contract, the Dog must ensure that the formalities and penalties for termination are not to his sole detriment. Same thing in love. Passion can lead him to a short-term engagement. This must not make him give up all reason.

Dog July 2023

Gregorian dates of the 6th lunar month (Month of the Earth Goat): from July 18 to August 15, 2023



According to the horoscope for July 2023, the Dog spends the first half of the month more serene than the second. At the professional level, nothing should be left to chance. Caution is advised when traveling on business. Politeness and consideration should be maintained in social interactions. Good advice is worth gold, provided you know how to apply it. Financially, the money should arrive without too much worry. However, it is better to stick to strict incompressible expenses for the moment. On the sentimental side, a long-awaited news is finally confirmed. Trying to shape the lives of others can be detrimental to one's own emotional balance. One door closes and another opens.

Dog August 2023

Gregorian dates of the 7th lunar month (Month of the Metal Monkey): August 16 to September 14, 2023



According to the horoscope for August 2023, the Dog is preparing for professional prospects that are potentially less encouraging than expected. Fortunately, the alliances made during the previous months will help him stay the course. Discussions around a barely appeased conflict will be the source of new solutions. A financial transaction is to be closely monitored. It is always wise to regularly check the security of your bank accounts. In love, some interesting encounters are looming, mainly on a friendly level. It is only during a celebration where he is invited that the celibate Dog will have a card to play.

Dog September 2023

Gregorian dates of the 8th lunar month (Month of the Metal Rooster): September 15 to October 14, 2023



According to the horoscope for September 2023, the Dog is having a radiant month, except for a small easily surmountable communication issue. At work, solving a problem will open new paths. Rather than taking unnecessary risks, it is preferable to entrust responsibilities to those whose reliability and effectiveness have already proven themselves. When it comes to finances, time does its work. In love, a suitor hungry for attention and compliments could quickly turn a beautiful budding relationship into a destabilizing ride. Who knows, maybe the celibate Dog was looking for a leap into the unknown?

Dog October 2023

Gregorian dates of the 9th lunar month (Month of the Water Dog): from October 15 to November 12, 2023



According to the horoscope for October 2023, the Dog can count on a period of happiness in all areas of his life. It is a month during which there will be no shortage of solidarity impulses. At work, idealistic minds, wandering souls and extroverted or rebellious brains can be considered as unfit elements for the proper functioning of structures which above all require traditional know-how. Novelty can put off, and for some Dogs, it may be time to defend the interests of colleagues or collaborators who are venturing into unfamiliar territory. A fair share should take place after close negotiation. Beware of bites during these moments of tension. In love, periods of hesitation are far behind. But the legendary pessimism of the Dog sticks to his skin. Founding a home could be the main goal that urges some celibate Dogs. We must see the good side of existence and proscribe any type of violence. The opportunities to have a smile on your face are there; they must be grasped, gently and sparingly.

Dog November 2023

Gregorian dates of the 10th lunar month (Month of the Water Pig): from November 13 to December 12, 2023



According to the horoscope for November 2023, the Dog is enjoying a rather cheerful period, strewn with little fears without real gravity. At work, being late should not poison peaceful relationships. Some, despite their talent, apply obsolete models that lead them down the wrong path. If he wants to keep his position, the Dog should not follow all the advice given to him. On the financial side, the Dog knows how to limit his expenses when necessary. In love, there is nothing like surrounding yourself with simple and caring people. The second part of the month can be more complex in terms of love. A former lover may suddenly reappear unexpectedly.

Dog December 2023

Gregorian dates of the 11th lunar month (Month of the Wood Rat): from December 13, 2023 to January 10, 2024



According to the horoscope for December 2023, the Dog is having an excellent new month. Things are moving in his favor as he fights hard for it. The risks avoided in the past weeks give him prestige and strengthen his position. At work, luck is with him. Meeting the right employee or service provider at the right time can provide him with the opportunities necessary for the successful completion of his projects. He must remain cautious when making financial investments and not commit to anything without careful prior verification. Moderate your enthusiasm when the promises seem too good. In love, the celibate Dog must not pretend to be what he is not. Parents need to keep an eye on their children.

Dog January 2024

Gregorian dates of the 12th lunar month (Month of the Wood Ox): from January 11 to February 9, 2024



According to the January 2024 horoscope, the Dog hardly benefits from periods influenced by the Ox. Courage and tireless work are required of him. In the Year of the Rabbit, the month promotes the intergenerational transmission of know-how. So, at work, trainees and apprentices should be well guided. They will serve as support from the upcoming Chinese New Year. Financially, the Dog may have to manage conflicts of interest. Emotionally, his unequaled clairvoyance and flair allow him to strengthen his friendships. As a couple, taking care of your own interests is not necessarily a selfish act. However, in the case of a healthy relationship, the building of the nest goes faster in pairs. Fortunately, nothing is impossible for him if this pattern of life does not suit him. The Dog does not necessarily need company to face the vagaries of the present. He can manage very well on his own, and he has obviously already proven it on many occasions.
Chinese Horoscope for Fire, Earth, Metal and Water Dogs
Below, in accordance with the Chinese horoscope, you will find a detailed description of the personality and specificities of the 5 existing types of Dog, which associate the terrestrial branch of the Dog with the 5 Yang celestial trunks of WuXing and Feng Shui (Yang Wood, Yang Fire, Yang Earth, Yang Metal, Yang Water). Indeed, the Dog being a Chinese astrological sign with Yang polarity, the elements of Nature to which he can be connected are always in their Yang form. Likewise, for each Dog associated with his celestial trunk (Wood Dog, Fire Dog, Earth Dog, Metal Dog, Water Dog), discover the pillar of destiny he is associated with and its meaning, in relation to its imaged destiny.
🌳 Wood Dog
Characteristics: You're a Wood Dog if you're born in 1934 or 1994. In 2023, you're 89 or 29 years old. Your lucky number is 11.
Personality: The native of the Year of the Wood Dog is endowed with a noble, stable and powerful personality. The Yang Wood element brings to the Wood Dog his creative qualities, his generosity and his balance in his relations with others. Disinterested, honest and devoted to his family, but also capable of sporadic anger, the Wood Dog is above all an epicurean, usually an excellent cook, and always charming and popular with his friends. His professional ambition and his material comfort can only develop if he learns to rely more on himself, while taking care to listen to the people of trust who surround him.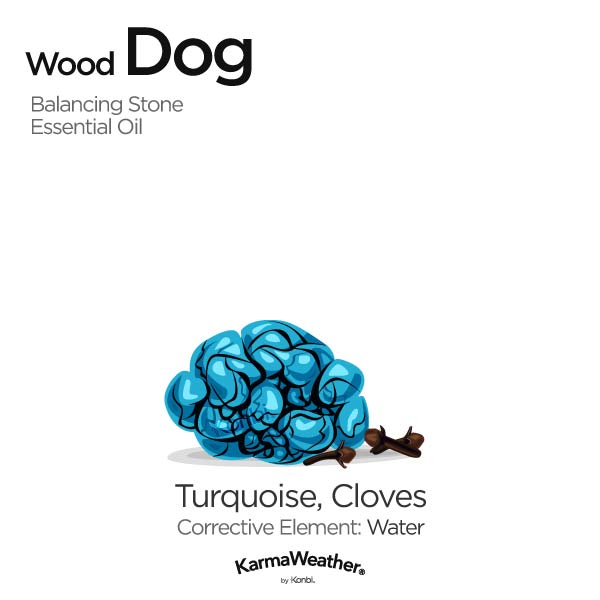 Wood Dog's Pillar of Destiny
Imaged destiny: "Fire at the top of the mountain" (Yang)
Meaning of the Wood Dog's birth pillar: Solid ambition, exemplarity, clairvoyance and kindness, empathy and protection, social ascent supported by a keen sense of concrete realities, possible difficulty in expressing emotions clearly.
🔥 Fire Dog
Characteristics: You're a Fire Dog if you're born in 1946 or in 2006. In 2023, you're 77 or 17 years old. Your lucky number is 23.
Personality: The person born in the Year of the Fire Dog is the most optimistic of his fellows, but also the most theatrical, even insolent when he feels attacked. Pleasant and festive, seductive but faithful, he has the qualities that make him a great friend and an ideal lover. His independence and his strength of character, his revolted side against the injustices of the world, add to his Hollywood-like charisma. In general, the Fire Dog prefers the company of older people than himself, whose knowledge and wisdom make him more serene in his daily life. Incorruptible, the Fire Dog doesn't hesitate to show the fangs, and even to bite, when he considers that a situation has degenerated too much to his liking.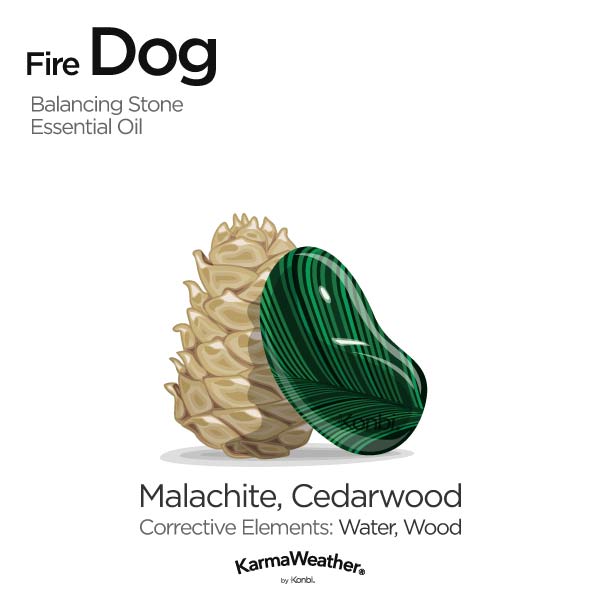 Fire Dog's Pillar of Destiny
Imaged destiny: "Earth on the roof" (Yang)
Meaning of the Fire Dog's birth pillar: Protection and good luck, importance of family and ancestors, prestige and dynastic power, adapted to political and legal professions, risk putting personal interests above common interests.
🗿 Earth Dog
Characteristics: You're an Earth Dog if you're born in 1958. In 2023, you're 65 years old. Your lucky number is 35.
Personality: The native of the Year of the Earth Dog has a responsible character, and he makes his decisions for the collective interest. Skilled in mediation, the Earth Dog is also pragmatic, calm and serene. Gentler in approach than his fellow Dogs, his flair and his insight are very developed. Always cautious and alert, sometimes undecided, the Earth Dog doesn't lose his biting skills when he feels threatened or betrayed by someone he had previously gratified of his friendship.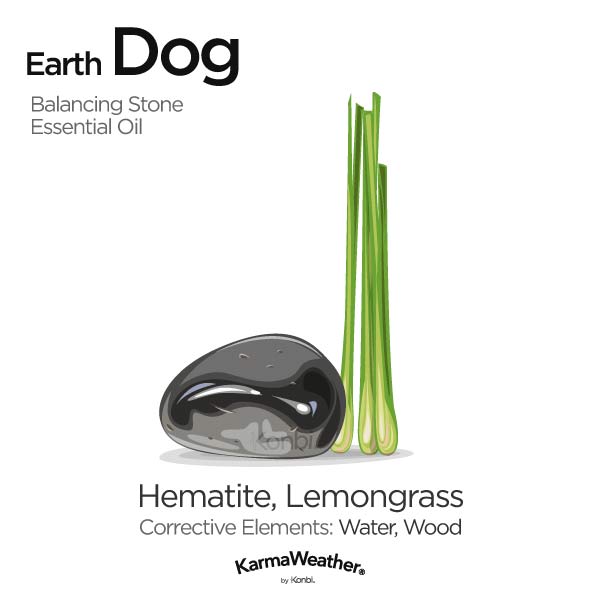 Earth Dog's Pillar of Destiny
Imaged destiny: "The wood of the plains" (Yang)
Meaning of the Earth Dog's birth pillar: Great creativity, generosity, fertility and sense of family, ability to make objective judgments, risk of frustrations and unfinished achievements due to possible difficulties in channeling an overflowing energy.
🛠 Metal Dog
Characteristics: You're a Metal Dog if you're born in 1970 or 2030 (on Chinese New Year 2030, the next generation of Metal Dogs will be born). In 2023, you're 53 years old. Your lucky number is 47.
Personality: The person born in the Year of the Metal Dog can be cold and severe in his relationship to others. Honorable, austere but charitable, his personal interests closely related to the good he can do around him. It's better not to make an enemy of of him, because the Metal Dog is a tenacious opponent, who doesn't let go the trace of his prey once the hunt is launched. Conservative and patriotic, rarely in doubt of himself, the Metal Dog usually appreciates the military, political, justice and police careers.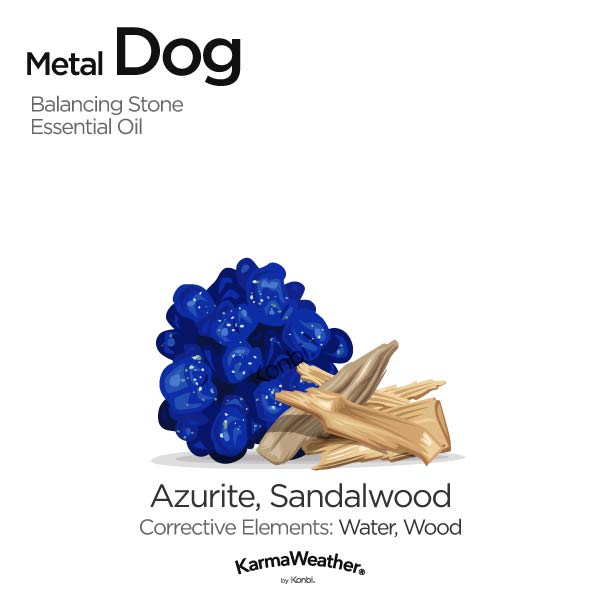 Metal Dog's Pillar of Destiny
Imaged destiny: "Gold ornaments and hairpins" (Yang)
Meaning of the Metal Dog's birth pillar: Luck and fortune at hand, exacerbated charisma, qualities of dialogue and force of conviction, ideal for those who choose the professions of politics, diplomacy, law, commerce and marketing, taste for power and pleasure in confrontation (at the risk of losing your skills).
💧 Water Dog
Characteristics: You're a Water Dog if you're born in 1922 or 1982. In 2023, you're 101 or 41 years old. Your lucky number is 59.
Personality: The native of the Year of the Water Dog has the sharpest instinct of his fellows. His sense of smell and his perspicacity are qualities that allow him to always find his way and rarely go wrong. Pleasant and gifted, with an attentive ear for his friends, the Water Dog is overflowing with charm. Refined and eloquent, his company is always pleasant, especially since of all Dogs he is the least authoritarian and the most tolerant.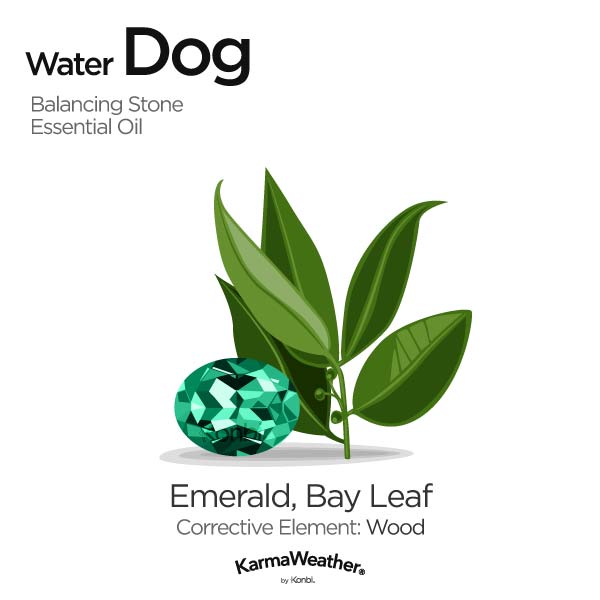 Water Dog's Pillar of Destiny
Imaged destiny: "The water of the great ocean" (Yang)
Meaning of the Water Dog's birth pillar: Exceptional learning and knowledge-building capacities, preference for consultancy and administration, remarkable analytical skills, risk of obstinacy and rigidity in the face of the unknown.
Chinese zodiac sign of the Dog
Main characteristics of Wood, Fire, Earth, Metal and Water Dogs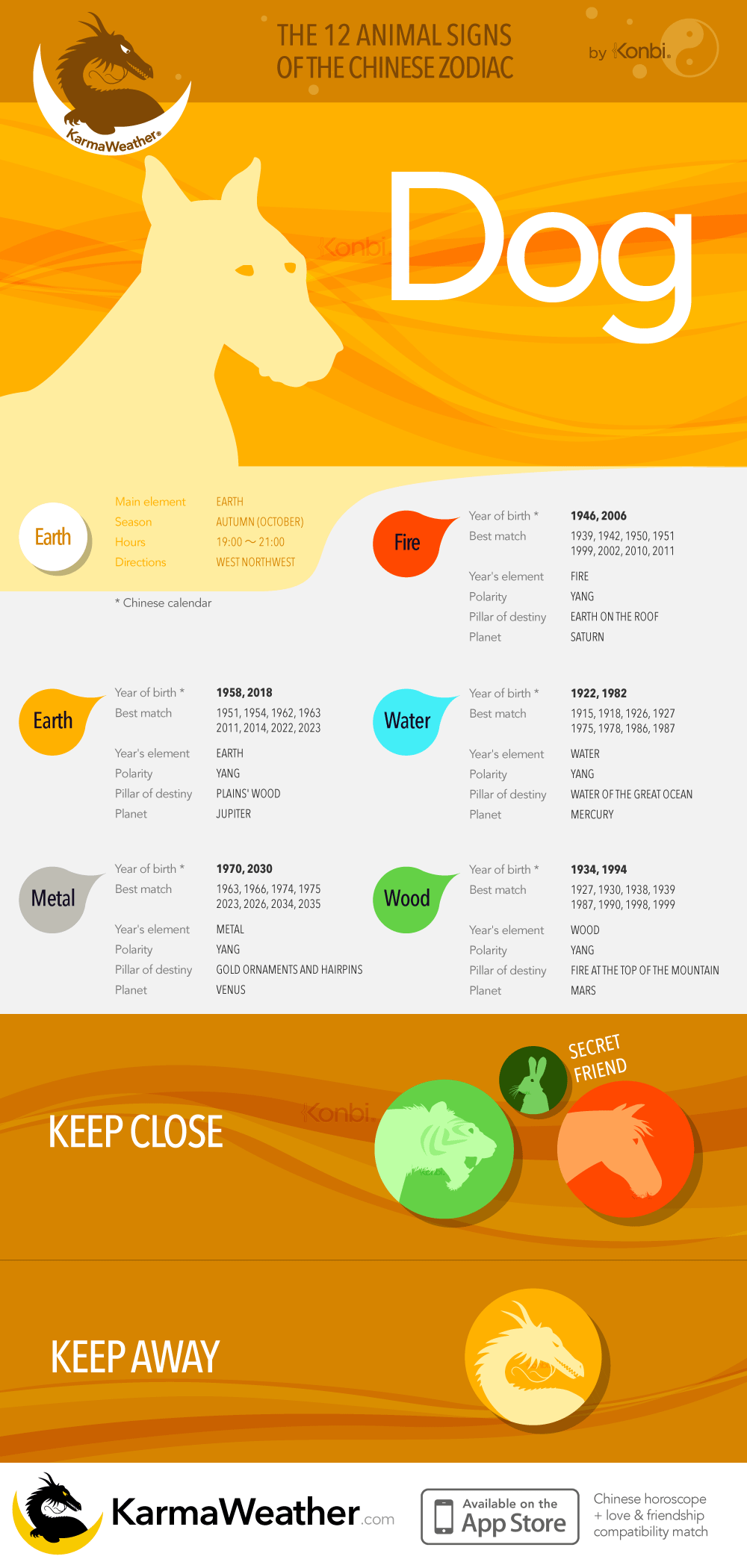 © KarmaWeather by Konbi | Copyright protection: Reproduction forbidden. Any infringement will be subject to DMCA request | Disclaimer notice: Use of medicinal plants should be discussed with a physician, especially for pregnant / breastfeeding women or children. Stones / crystals have no application in modern medicine and can't replace medical treatment.