Year of the Goat - The Goat (Chinese zodiac)
🐐 Year of the Goat (Sheep) - Chinese horoscope, personality, fortune, love compatibility
By KarmaWeather - 2 July 2015
© KarmaWeather by Konbi - All rights reserved
The Goat in brief
The Goat is the Chinese zodiac sign of Art, Love and Nature. Key qualities of the 8th sign of Chinese astrology are sweetness, peacefulness, intelligence, predisposition for art and music.
The Goat is a charming and friendly person who never leaves anyone indifferent. He generally retains his legendary good humor and optimism only with those he considers worthy of his esteem. However, deep in his heart, the Goat is often anxious and hesitant.
Goat's years of birth
🐐 Goat calendar years
- Years and elements of birth for the Chinese zodiac sign of the Goat according to the Chinese lunisolar calendar:
| Year of birth | Exact date range | Chinese year name |
| --- | --- | --- |
| 1931 | 17/02/1931 - 05/02/1932 | Metal Goat |
| 1943 | 05/02/1943 - 24/01/1944 | Water Goat |
| 1955 | 24/01/1955 - 11/02/1956 | Wood Goat |
| 1967 | 09/02/1967 - 29/01/1968 | Fire Goat |
| 1979 | 28/01/1979 - 15/02/1980 | Earth Goat |
| 1991 | 15/02/1991 - 03/02/1992 | Metal Goat |
| 2003 | 01/02/2003 - 21/01/2004 | Water Goat |
| 2015 | 19/02/2015 - 07/02/2016 | Wood Goat |
| 2027 | 06/02/2027 - 25/02/2028 | Fire Goat |
Goat's personality horoscope
The magic of his magnetism is an asset that allows the Goat to feel comfortable in society, and can even bring him to meet influential people for his career. His good heart and generous soul always pushes the Goat to provide assistance to the poorest, even when he himself is in a precarious situation. His enemies, jealous of his talents, often resort to deceitful methods to discredit him. In spite of this, the Goat is able to keep his faith in the world and his empathy and benevolence for those around him.
The Goat falls easily in love, to the point of being able to sincerely love several people at once. Under certain conditions, whether in friendship or in love, he is ready to endure unpleasant situations without saying a word. However, when the Goat feels that his love is not reciprocal, he scolds quickly and then jumps gracefully and with agility towards more lush pastures. In his daily life, the Goat is easily satisfied with what nature brings him, as long as the grass at his disposal remains green and fat.
The Goat also has an excellent memory. His ability to forgive easily doesn't mean that the native of the Year of the Goat remains blind to the actions of those around him. In business, if one can't say that the Goat is a born negotiator, he is however, just like the Monkey, very good at evaluating a complex situation.
When the Goat chooses an artistic or political career, he can achieve excellence and success in these two areas. In truth, the Goat can perform miracles, provided that he doesn't let himself be stunned by the idleness of an overly favorable environment and that he manages to question himself on the meaning of his life and his deep aspirations.
Indeed, the Goat, so concerned with his freedom, must remember wisely that true freedom passes through independence and that to gain access to it he must build his projects in the long term, with perseverance, and avoid any temptation to unnecessary expense.
Chinese zodiac Goat's best jobs and careers
Politician, archeologist, artist, poet, actor, writer, painter, sculptor, musician, scientist, writer, musician, environmentalist
Goat's fortune
Lucky Colors of the Goat
White, blue
Lucky Numbers of the Goat
4, 8, 12
Goat (zodiac) eminent personalities
Celebrities born in the Year of the Goat
Bill Gates, Steve Jobs, David Getta, Caravaggio, Frida Khalo, Michelangelo, Charlotte of Cambridge, Nicolas Sarkozy, Jane Austen, Arthur Conan Doyle, Honoré de Balzac, Charles Dickens, Marcel Proust, Mark Twain, Tomas Tranströmer, Mo Yan, Isabelle Adjani, Pamela Anderson, Catherine Deneuve, Bruce Willis, Mick Jagger, Pink, Chris Patt, Heath Ledger, Aaliyah, Kate Hudson, Mya, Kourtney Kardashian, Ed Sheeran, Joe Dugg, Dylan O'Brien, Tyler Posey, Toddy Smith, Amanda Cerny, Roi Fabito, Young Thug, Vangelis, Antoine Griezmann, N'Golo Kanté, Jair Bolsonaro
Goat's love compatibility
The Goat's Chinese zodiac compatibility triangle
The Goat, the Rabbit and the Pig (Boar) are part of the fourth compatibility triangle of Chinese astrology. Indeed, the Goat, eight sign-animal of the zodiac in the Chinese calendar, gets along naturally with the Rabbit and Pig.
All 12 zodiac signs of the Chinese horoscope also have a secret friend: the Horse is the secret friend of the Goat. The Chinese Zodiac sign of the Goat is incompatible with the Ox.
💖 Goat compatibility horoscope
Astrology tip: to better understand his daily horoscope, regardless of the specific interpretation of the current Chinese New Year, the Goat should monitor the days and months governed by the energetic influence of the Ox.
Goat's birthstones
Goat Chinese zodiac lucky stones: Alexandrite, carnelian, cat's eye, chrysoberyl, citrine, fuchsite, golden rutilated quartz, golden topaz, moonstone, peridot, rainbow fluorite, serpentine, silver rutilated quartz, tiger's eye, tsavorite garnet, yellow citrine
🌳 Wood Goat
Characteristics: You're a Wood Goat-Sheep if you're born in 1955 or in 2015. In 2019, you're 64 or 4 years old. Your lucky number is 32.
Personality: Joyful, confident and generous, the Wood Goat is clearly not a fighting Goat. He will always prefer to opt for diplomacy and compromise rather than direct confrontation. The Wood Goat, sentimental and affectionate, gives body and soul to his loved ones and to the strangers he meets and who are in need. The altruistic generosity of the Wood Goat protects him effectively when he is himself in need, for his entourage then spontaneously helps him.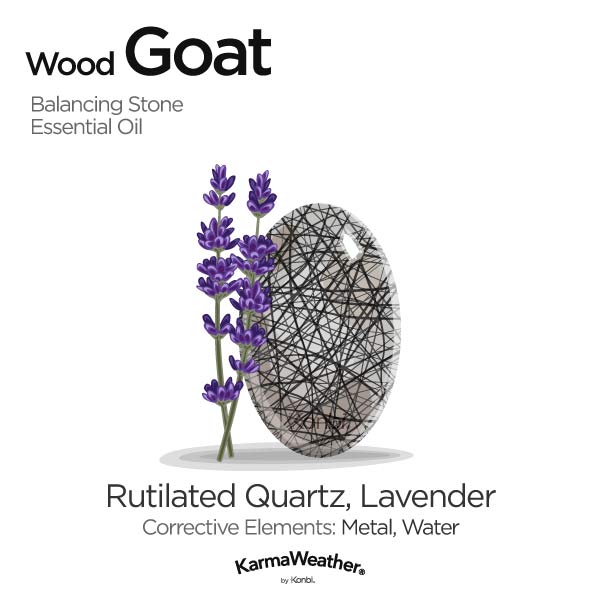 🔥 Fire Goat
Characteristics: You're a Fire Goat-Sheep if you're born in 1967. In 2019, you're 52 years old. Your lucky number is 44.
Personality: The Fire Goat is the least timid, but also the most melancholic of his fellows. His projects are as grandiose as his propensity for spending. Dynamic and creative, the Fire Goat is also capable of uncontrollable anger when he feels unfairly criticized.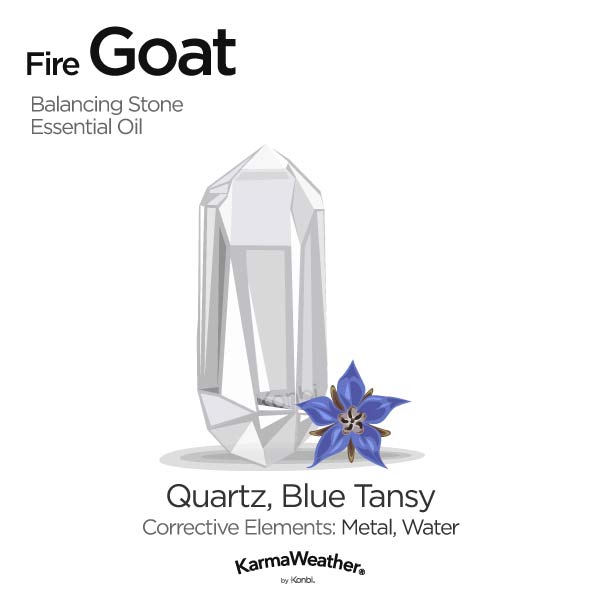 🗿 Earth Goat
Characteristics: You're an Earth Goat-Sheep if you're born in 1979. In 2019, you're 40 years old. Your lucky number is 56.
Personality: Unlike the other Goats, the Earth Goat is capable of a measured independence. Generous, kind, always available to others, the Earth Goat is suspicious of those who ask him too many questions. Delicate and touchy, not supporting any remarks from anyone, the Earth Goat is a dreamer, capable of deploying great talents in all the artistic fields that require rigor and perseverance, such as music, painting, theater, poetry, dance and cinema.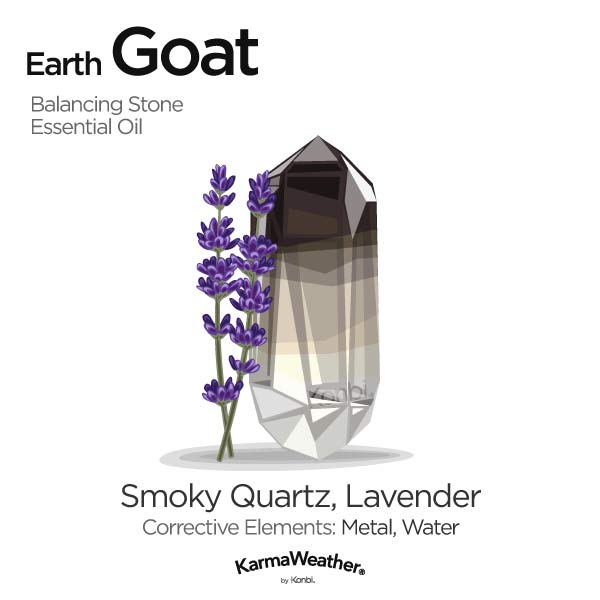 🛠 Metal Goat
Characteristics: You're a Metal Goat-Sheep if you're born in 1931 or 1991. In 2019, you're 88 or 28 years old. Your lucky number is 8.
Personality: Proud, aesthete, very concerned about his appearance, the Metal Goat is also secretly emotional and fragile. Jealous and possessive, in love as in friendship, the Metal Goat grants his trust only to a limited number of people, whom he chooses exclusively out of love or opportunism. His confidence, his sure taste and his multiple creative talents open to him the door to successful ventures in the Arts and Entertainment industries. The Metal Goat has an innate gift for knowing how to sell his services at a golden price; if he chooses an artistic career, he can become the richest of his fellows, and all by himself!
💧 Water Goat
Characteristics: You're a Water Goat-Sheep if you're born in 1943 or in 2003. In 2019, you're 76 or 16 years old. Your lucky number is 20.
Personality: The Water Goat enjoys a great popularity with his friends and family, as he is greatly appreciated for his humility and fidelity. Superficial, impressionable and opportunistic, the Water Goat has a tendency to choose first what reassures him and asks the least possible effort from him. Any disagreement with his vision is synonymous with rejection in his eyes, which does not make him resentful anyway.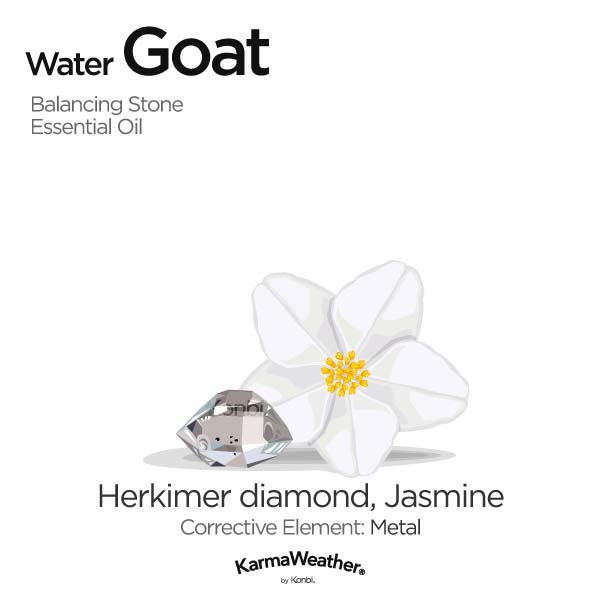 © KarmaWeather by Konbi - All rights reserved
Copyright protection: Reproduction strictly forbidden without prior agreement. Any infringement will be subject to a Google DMCA request.Disclaimer notice: Please note that the use of medicinal plants, in any form whatsoever, should always be considered after consultation with a doctor, especially for pregnant or breastfeeding women, as well as for young children. In the same way, crystals and stones can only be considered as a support for medical treatment and never as a substitution. They are commonly called healing crystals for their action on the chakras, knowing that these have no application in modern medicine.