Fashion 2024: Trends and colors of the Year of the Dragon
Fashion Trend Forecast 2024 for the 12 Chinese zodiac signs: the best color combinations and clothing styles for women and men from Chinese New Year 2024
By KarmaWeather - 26 July 2023
© KarmaWeather by Konbi - All rights reserved
What style of dress and what color palette for your Chinese zodiac sign in 2024?
A wind of renewal and luck is blowing through the fashion of the year 2024, inspired by Chinese astrology and the lucky colors of KarmaWeather for the Year of the Wood Dragon. Our clothes are not only a means of expression, they can also elevate our energy and boost our confidence. The 2024 collection imagined by KarmaWeather boldly mixes the dominant lucky colors of the Year of the Dragon 2024, namely spring green and imperial yellow, with touches of bright red and pure white to balance the whole.
It is by combining ancestral wisdom and contemporary creativity that KarmaWeather is revolutionizing the 2024 trends. Elegance becomes the leitmotif of this collection, each piece being designed with particular attention to detail, shape and color to create a balance between subtlety and simplicity.
For her: an amalgam of lightness and elegance
The silhouettes are ethereal, expressing an almost ethereal lightness. From floaty skirts to flowing blouses, each garment seems to dance with the wind, creating harmony in motion. This priority given to movement frees the modern woman from the constraints of rigid clothing, allowing her to move freely, to be herself. Fullness is also in the spotlight, both in the cuts and in the use of fabrics. Palazzo pants, wide and comfortable, rub shoulders with generously draped tunics.
In terms of materials, silk and cotton dominate, adding a touch of luxury and comfort to each creation. Silk, fluid and shiny, gives life to sublime dresses and blouses, evoking the image of a confident and refined woman. Cotton, soft and breathable, is used in more casual pieces, bringing a feeling of well-being to everyday life.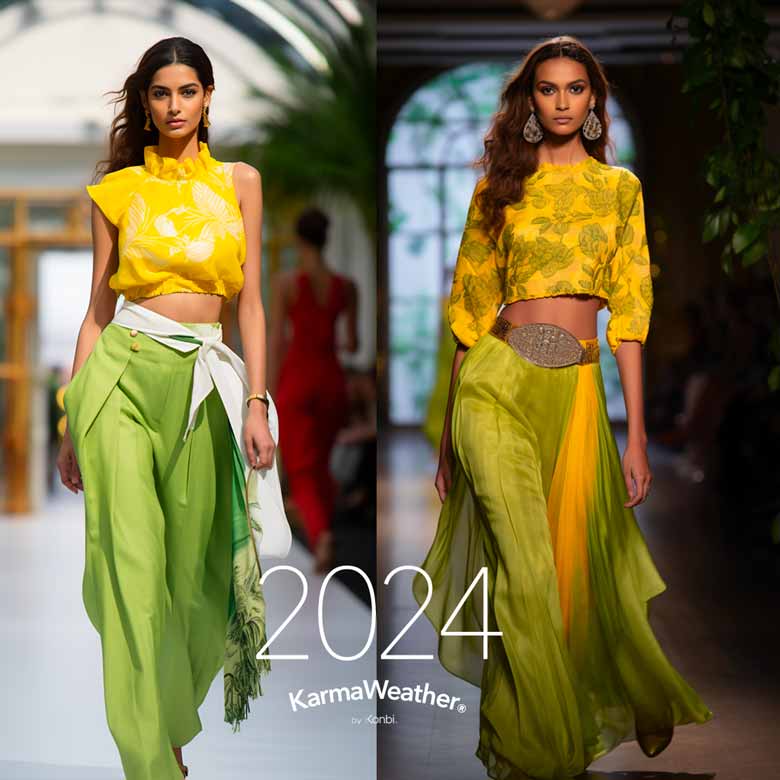 Nature also invites itself into this collection, through the use of embroidered patterns and plant prints. Lush plants and delicate flowers are declined in intricate embroidery, bringing a sense of freshness and renewal. As for the plant prints, they bring a touch of exoticism and escape from a repetitive, gray and conventional urban daily life.
Abstract patterns also make an appearance, with ethereal hues that seem to come straight out of a dream. Gradients of green and yellow evoke rolling landscapes, while pops of red and white create a striking contrast. This chromatic audacity, far from swearing, creates a harmonious and seductive whole, revealing everyone's artistic soul, in addition to strengthening their luck throughout the year 2024.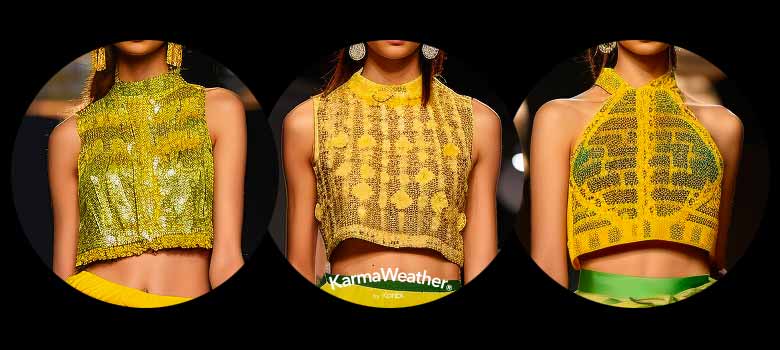 No outfit is complete without the subtle addition of well-chosen accessories. For women in 2024, the brilliance of Indian jewelry, with its detailed embellishments and sparkling gemstones, serves as a showcase for your natural beauty. Vibrant red and pure white are the protagonists of the accessories palette, balancing the predominance of spring green and imperial yellow in the garments. Handbags, scarves and shoes, all designed with attention to detail, complete the look, adding a layer of sophistication to the ensemble.
India, land of contrasts and colors, inspires each element, imbuing each creation with a mixture of exoticism and refinement. It's like a journey through time and space, an exploration of the mystical and the modern, that KarmaWeather invites you to undertake through this collection in perfect harmony with the energies of the Year of the Dragon 2024. Audacious marriage and simplicity, more than a collection, it is a real manifesto for a fashion that respects and values women, in all their dimensions.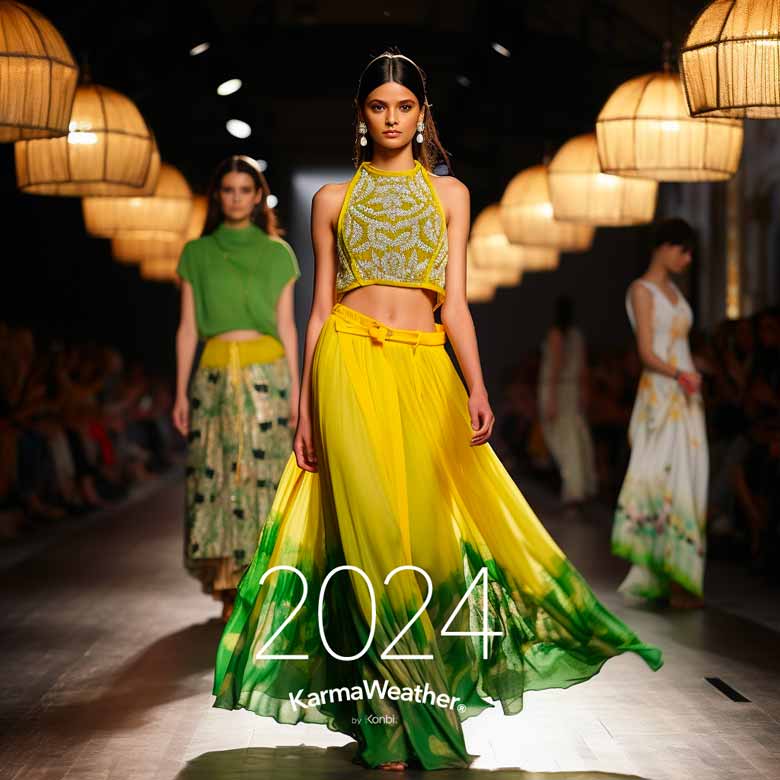 For him: chic and relaxed
For men, 2024 is a year of comfort and style. The casual yet elegant look is the trend to embrace, with yellow imperial pants as the centerpiece. Combined with a two-tone green and yellow jacket, you are assured of a bold and fashionable appearance.
The classicism of the white shirt brings a nuance of elegance to each outfit, blends perfectly with the dominant color palette. It's a go-to essential that fits any occasion, from the office to a casual night out.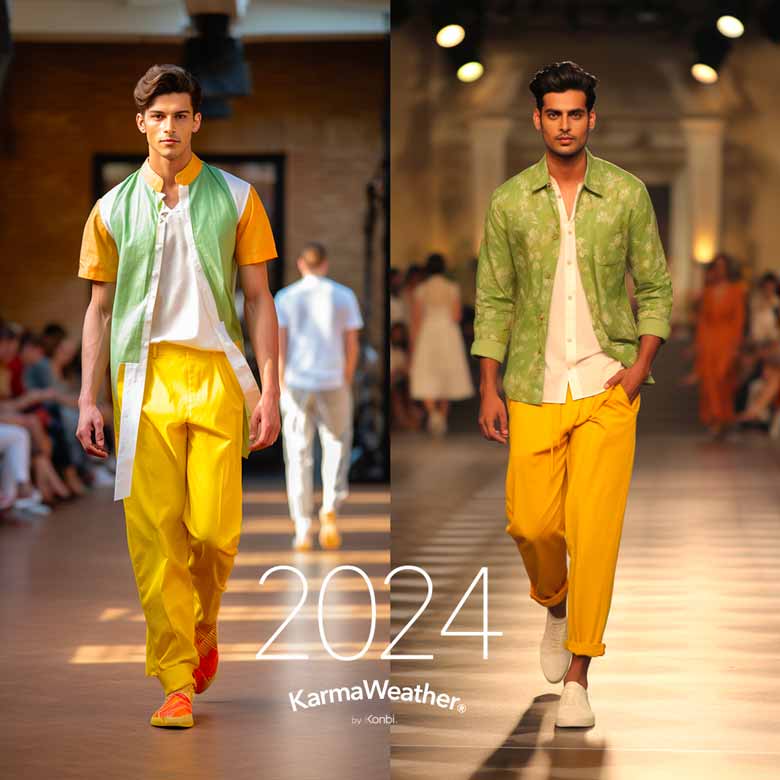 And let's not forget the shoes! In smooth leather or canvas, red or white shoes are there to add a touch of freshness to your look. They are the perfect finalists for your look, adding vibrancy and personality to your style. KarmaWeather, by suggesting these lucky shades, promises to turn your everyday walk into a bold fashion statement.
Fashion in harmony with the elements
KarmaWeather's 2024 collection makes good use of color to activate the elements of Chinese astrology and Feng Shui. Green, activating the Wood element, symbolizes growth and renewal, while yellow, which activates the Earth element, brings stability and realism. Red, which activates the Fire element, stimulates energy and passion, and white, activating the Metal element, promotes clarity and precision.
Embracing these fashion trends in 2024 will not only make you shine in style, but will also boost your luck and confidence throughout the Year of the Wood Dragon. So don't hesitate to embrace these new trends and express your individuality with panache.
What does 2024 hold for the 12 Chinese zodiac signs?
© KarmaWeather by Konbi | Copyright protection: Reproduction forbidden. Any infringement will be subject to DMCA request | Disclaimer notice: Use of medicinal plants should be discussed with a physician, especially for pregnant / breastfeeding women or children. Stones / crystals have no application in modern medicine and can't replace medical treatment.