Cancer zodiac sign - Dates, Personality, Compatibility
♋ Cancer horoscope - Cancer dates of birth, personality traits, love compatibility, lucky numbers, colors and zodiac birthstones
By KarmaWeather - 5 November 2016
© KarmaWeather by Konbi - All rights reserved
Cancer dates of birth range: the Sun crosses the zodiac constellation of Cancer from June 22nd until July 22nd
Symbol: the crab
Element: Water
Planet: the Moon
Cancer zodiac birthstones by date: If you were born between between June 22nd and July 22nd, your Cancer lucky stone names are Aventurine, Black Tourmaline, Blue Chalcedony, Cacholong, Clear Quartz, Dalmatian Jasper, Diamond, Emerald, Golden Topaz, Herkimer Diamond, Pearl, Jade, Labradorite, Moonstone, Rainbow Obsidian, Pink Quartz, Rainbow Fluorite, Selenite, Silver Rutilated Quartz, Watermelon Tourmaline, White Calcite, White Noble Opal
House (constellation) of Cancer
Zodiacal House number: 4
Astrological House in opposition with Cancer: 10 (Capricorn)
Meaning of the House of Cancer: "I feel", the end of things, family life and relationship with parents, hidden treasures and secrets, father's inheritance, real estate, property not coming from a dead, burial and cemetery. In world astrology, the House of Cancer concerns agriculture and more specifically crops, mining, land interests, cities, the winds and opposition political parties.
Cancer personality traits and qualities
The person born under the fourth zodiac sign of the solar calendar has a curious, versatile and dreamy personality, with a tendency to superstition and melancholy. Shy and even naive, not cartesian for a penny, he even has mystical aspirations, whereas his depressive nature can sometimes lead him to alcohol abuse.
If the multiple talents and abilities of the native of Cancer are undeniable, it's important for him to work on his shortcomings. His lack of rigor and perseverance, combined with a capricious and stubborn nature, can become strong impediments if not recognized in time.
Versatile, a lover of good food, wine and travel, the person born during the crossing of the Sun with the constellation of Cancer favors his personal comfort above all else. While he aspires to create a peaceful home, his character leads him to either love or hate his family.
If his lack of realism combined with his pronounced taste for laziness don't occupy too much of his time, he can very well become rich thanks to his special gift for salesmanship.
Cancer lucky numbers and colors
Lucky number: 2
Lucky color: green
Cancer love compatibility
Cancer is the most compatible with Scorpio, Pisces and Cancer.
The Western zodiac sign of Cancer is the closest to the Chinese zodiac sign of the Goat (Sheep). Indeed, the lunar calendar dates of the Month of the Goat correspond roughly to the solar calendar dates of the zodiac sign of Cancer.
On an individual level, if you want to know the personality of Cancer with the character of your Chinese zodiac sign, check if necessary your Chinese zodiac sign with the free calculator (on the right column of the page from a computer, at the bottom of the page from a mobile phone) and click on the link below which corresponds to you.

Ideal jobs for Cancer
Historian, navigator, explorer, salesman, PR consultant, teacher, scientist
Celebrities - Famous Cancer and eminent personalities
Famous Cancer celebrities include: Alexander the Great, Alan Turing, Adam Malik, Alberto Santos Dumont, Beck, Camila Parker Bowles, Ariana Huffington, Bill Withers, Ali Khamenei, Antoine de Saint-Exupéry, Brian May, Buju Banton, Angela Merkel, Aruna Roy, Barbara Cartland, Chandikra Kumaratunga

Zodiac birthstones of Cancer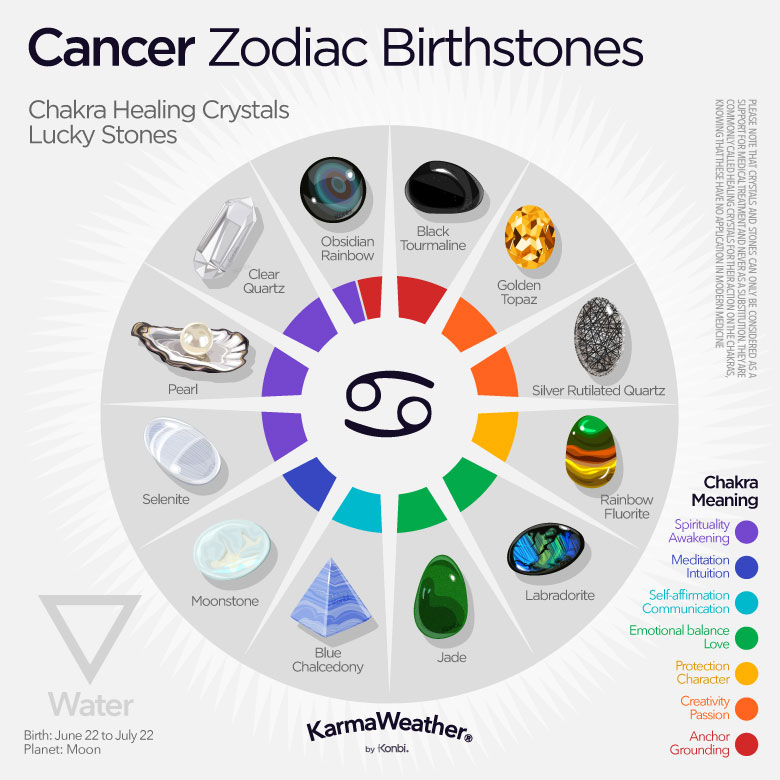 © KarmaWeather by Konbi - All rights reserved
Copyright protection: Reproduction strictly forbidden without prior agreement. Any infringement will be subject to a Google DMCA request.Disclaimer notice: Please note that the use of medicinal plants, in any form whatsoever, should always be considered after consultation with a doctor, especially for pregnant or breastfeeding women, as well as for young children. In the same way, crystals and stones can only be considered as a support for medical treatment and never as a substitution. They are commonly called healing crystals for their action on the chakras, knowing that these have no application in modern medicine.