Capricorn zodiac sign - Dates, Personality, Match
♑ Capricorn horoscope - Capricorn dates of birth, personality traits, love compatibility, lucky numbers, colors and zodiac birthstones
By KarmaWeather - 5 November 2016
© KarmaWeather by Konbi - All rights reserved
Capricorn dates of birth range: the Sun crosses the zodiac constellation of Capricorn from December 22nd until January 20th
Symbol: a mountain goat
Element: Earth
Planet: Saturn
Capricorn zodiac birthstones by date: If you were born between between December 22nd and January 20th, your Capricorn lucky stone names are Amethyst, Black Noble Opal, Black Tourmaline, Blue Chalcedony, Cacholong, Clear Quartz, Chrysoberyl, Dalmatian Jasper, Diamond, Emerald, Hawk's Eye, Purple Fluorite, Hematite, Herkimer Diamond, Pearl, Malachite, Manganocalcite, Moonstone, Rainbow Obsidian, Peridot, Pink Quartz, Rainbow Fluorite, Silver Rutilated Quartz, Smoky Quartz, Starry Obsidian, Watermelon Tourmaline, White Calcite, White Noble Opal
House (constellation) of Capricorn
Zodiacal House number: 10
Astrological House in opposition with Capricorn: 4 (Cancer)
Meaning of the House of Capricorn: "I lead", career, reputation and honors, group action, maternal home. In world astrology, the House of Capricorn concerns royal or presidential palaces, power and memory.
Capricorn personality traits and qualities
Ambitious, patient, meticulous, gifted with a high level of concentration, the native of the zodiac sign of the Capricorn tends to accomplish himself in the second part of his life. Skeptical or even indifferent to religion, the person born during the crossing of the sun with the constellation of Capricorn is a thinker, even sometimes a philosopher, who greatly appreciates long walks along the river or in the forest. Similarly to the plants he likes so much and whose growth is slow and deserve care and attention, his rise in life seems slow and difficult.
As he shows little about his feelings, his appearance seems somewhat cold, when in reality a Capricorn is highly sensitive. As he revels in solitude, he actually rarely seeks the company of others.
The pessimism and sometimes cynical worldview of the person born under the protection of the tenth sign of the western zodiac sometimes makes him unsympathetic in appearance. Consistent in his opinions and faithful in friendship, he can also be harsh and suspicious with his relatives and friends, just as one should note that his grudge is tenacious.
Knowing how to carry out his initiatives, he succeeds through his personal merit, patience and perseverance. The setbacks he suffers are almost always due to bad luck.
Often single, when a Capricorn finally marry, it is usually a marriage of convenience or an arranged marriage, since the romantic disappointments of his youth have generally turned him cautious on the potential benefits of true love.
Capricorn lucky numbers and colors
Lucky number: 4
Lucky color: brown, black, spotted gray
Capricorn love compatibility
Capricorn is the most compatible with Taurus, Virgo and Capricorn.
The Western zodiac sign of Capricorn is the closest to the Chinese zodiac sign of the Ox (Buffalo). Indeed, the lunar calendar dates of the Month of the Ox correspond roughly to the solar calendar dates of the zodiac sign of Capricorn.
On an individual level, if you want to know the personality of Capricorn with the character of your Chinese zodiac sign, check if necessary your Chinese zodiac sign with the free calculator and click on the link below that best suits you.

Ideal jobs for Capricorn
Architect, scientist, gardener, farmer, philosopher, politician, designer, music artist, writer, actor
Celebrities - Famous Capricorn and eminent personalities
Famous Capricorn celebrities include: Isaac Newton, Louis Pasteur, Jack London, Henri Matisse, J.R.R. Tolkien, Mao Zedong, Elvis Presley, Anwar Sadat, Martin Luther King Jr., Muhammad Ali, Isaac Asimov, Stephen Hawking, Humphrey Bogart, Cary Grant, Hayao Miyazaki, David Bowie, Nicolas Cage, Jim Carrey, Rowan Atkinson, Kate Moss, Michelle Obama, Joan Baez, Mary J. Blige, Kevin Costner, Dido, Umberto Eco, Ralph Fiennes, James Earl Jones, Juan Carlos of Spain, Diane Keaton, Jude Law, Stan Lee, Jared leto, Julia Louis-Dreyfus, Zayn Malick, Park Jae-Sang, Emily Watson

Zodiac birthstones of Capricorn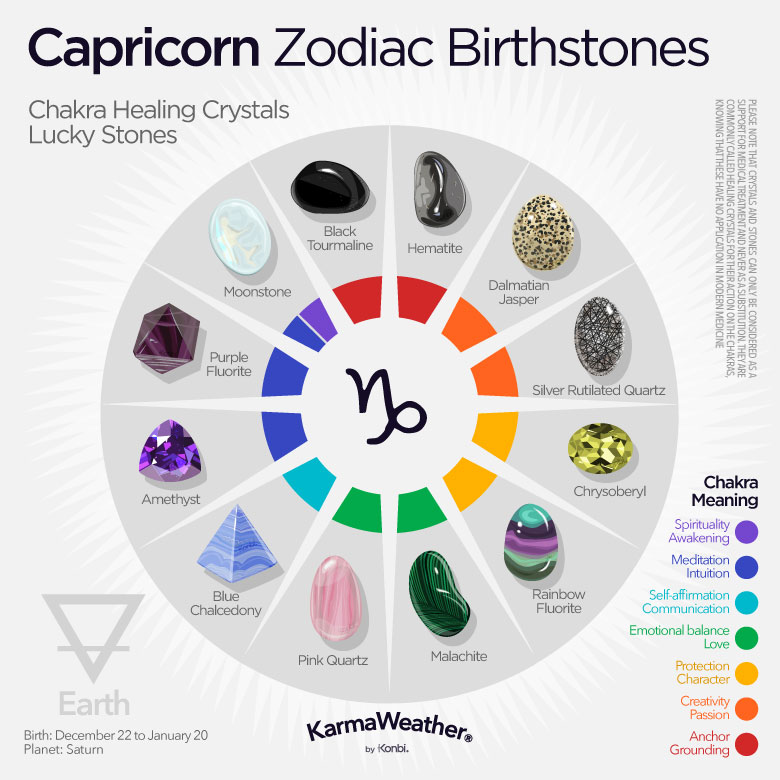 What essential oils are good for Capricorn?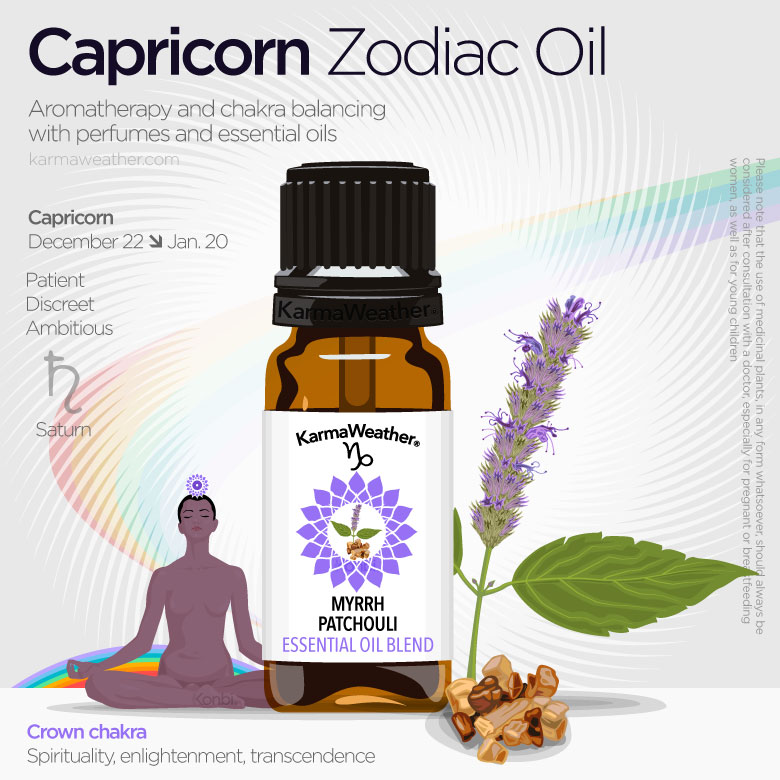 © KarmaWeather by Konbi | Copyright protection: Reproduction forbidden. Any infringement will be subject to DMCA request | Disclaimer notice: Use of medicinal plants should be discussed with a physician, especially for pregnant / breastfeeding women or children. Stones / crystals have no application in modern medicine and can't replace medical treatment.