Libra zodiac sign - Dates, Personality, Compatibility
♎ Libra horoscope - Libra dates of birth, personality traits, love compatibility, lucky numbers, colors and zodiac birthstones
By KarmaWeather - 5 November 2016
© KarmaWeather by Konbi - All rights reserved
Libra dates of birth range: the Sun crosses the zodiac constellation of Libra from September 23rd until October 23rd
Symbol: a scales
Element: Air
Planet: Venus
Libra zodiac birthstones by date: If you were born between between September 23rd and October 23rd, your Libra lucky stone names are Aquamarine, Aventurine, Bronzite, Cat's Eye, Clear Quartz, Chrysoberyl, Citrine, Dalmatian Jasper, Diamond, Emerald, Fuchsite, Green Apatite, Heliotrope, Herkimer Diamond, Pearl, Malachite, Moss Agate, Rainbow Obsidian, Peridot, Pink Quartz, Rainbow Fluorite, Serpentine, Smoky Quartz, Turquoise, Tsavorite Garnet, Yellow Citrine
House (constellation) of Libra
Zodiacal House number: 7
Astrological House in opposition with Libra: 1 (Aries)
Meaning of the House of Libra: "We are", marriage, contracts, collaboration and partnership, complementarity or its opposite, that is to say frontal antagonism, thefts and lawsuits, ennemies, sale or purchase of real estate. In world astrology, the House of Libra concerns foreign affairs (war and enemies, alliances and treaties), violent crimes and burglars.
Libra personality traits and qualities
Often nice, attractive and intelligent, the person born under the protection of the constellation of Libra, seventh zodiac sign of Western astrology, is a natural born artist. Gifted with great sensitivity, his artistic ability can only be tempered by an episodic lack of curiosity.
Sensual, lover of good food and good wine, the native of the zodiac sign of Libra greatly enjoy luxury, parties and entertainment.
A highly social creature, he hates loneliness above everything else. Quite indolent, he doesn't appreciate being constrained with prolonged and sustained efforts.
Eventually, if the seventh zodiac sign of Western astrology has the capacity to make money easily, his gains are usually quickly spent to sustain his lifestyle and well-being.
Libra lucky numbers and colors
Lucky number: 3
Lucky color: brown
Libra love compatibility
Libra is the most compatible with Gemini, Aquarius and Libra.
The Western zodiac sign of Libra is the closest to the Chinese zodiac sign of the Dog. Indeed, the lunar calendar dates of the Month of the Dog correspond roughly to the solar calendar dates of the zodiac sign of Libra.
On an individual level, if you want to know the personality of Libra with the character of your Chinese zodiac sign, check if necessary your Chinese zodiac sign with the free calculator and click on the link below that best suits you.

Ideal jobs for Libra
Musician, composer, designer, writer, actor, painter, fashion designer, model, pedicure, hairdresser
Celebrities - Famous Libra and eminent personalities
Famous Libra celebrities include: Horatio Nelson, Oscar Wilde, John Lennon, Michel Foucault, Julie Andrews, Brigitte Bardot, Bonnie Parker, Margaret Thatcher, Silvio Berlusconi, Vladimir Putin, David Ben-Gurion, Sigourney Weaver, Catherine Deneuve, Danny Boyle, Carrie Fisher, Kate Winslet, Mark Hamill, Clive Owen, Matt Damon, Zac Efron, Hugh Jackman, David Cameron, Michelangelo Merisi da Caravaggio, Paul Simon, Jimmy Carter, Truman Capote, Simon Cowell, Snoop Dogg, Jesse Eisenberg, Usher, Jaime Hernandez, Avril Lavigne, Lil Wayne, Yo Yo Ma, Yves Montand, Jalal Al-Din Rumi, Sting, Neil deGrasse tyson, Naomi Watts

Zodiac birthstones of Libra
What essential oils are good for Libra?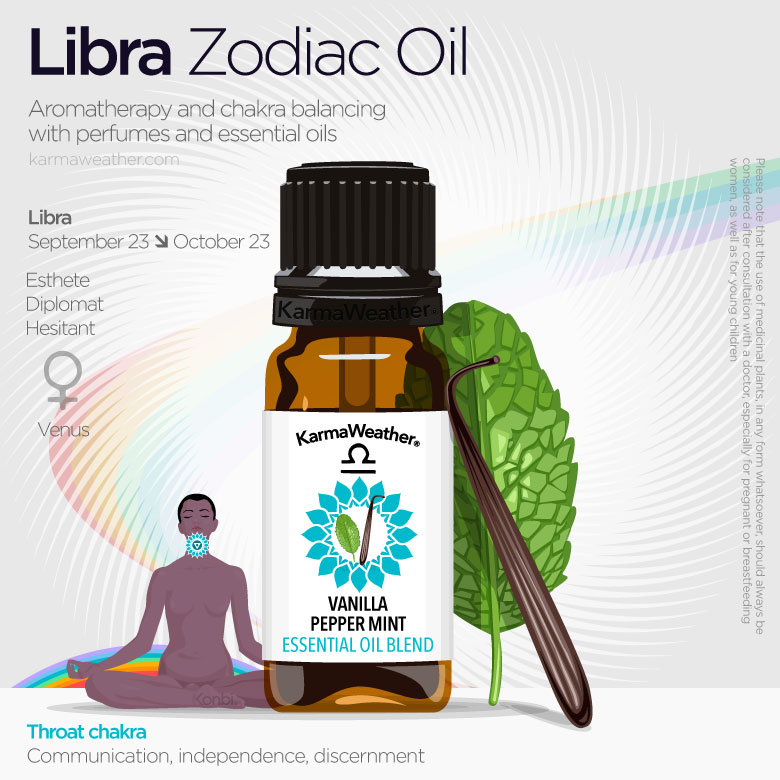 © KarmaWeather by Konbi | Copyright protection: Reproduction forbidden. Any infringement will be subject to DMCA request | Disclaimer notice: Use of medicinal plants should be discussed with a physician, especially for pregnant / breastfeeding women or children. Stones / crystals have no application in modern medicine and can't replace medical treatment.