Virgo zodiac sign - Dates, Personality, Compatibility
♍ Virgo horoscope - Virgo dates of birth, personality traits, love compatibility, lucky numbers, colors and zodiac birthstones
By KarmaWeather - 5 November 2016
© KarmaWeather by Konbi - All rights reserved
Virgo dates of birth range: the Sun crosses the zodiac constellation of Virgo from August 23rd until September 22nd
Symbol: a maiden
Element: Earth
Planet: Mercury
Virgo zodiac birthstones by date: If you were born between between August 23rd and September 22nd, your Virgo lucky stone names are Amazonite, Amber, Amethyst, Blue Calcite, Cacholong, Carnelian, Clear Quartz, Citrine, Dalmatian Jasper, Diamond, Golden Rutilated Quartz, Herkimer Diamond, Pearl, Manganocalcite, Moonstone, Rainbow Obsidian, Pink Quartz, Pink Topaz, Rainbow Fluorite, Septaria, Starry Obsidian, Tiger's Eye, Watermelon Tourmaline, White Noble Opal, Yellow Citrine
House (constellation) of Virgo
Zodiacal House number: 6
Astrological House in opposition with Virgo: 12 (Pisces)
Meaning of the House of Virgo: "I am improving, I serve", bad luck, health and work issues, pets, home food. In world astrology, the House of Virgo concerns the people, the workers, public health, the army, the navy, warships, police and more generally public services.
Virgo personality traits and qualities
Clever, analytical and methodical, the native of the sixth house of the Western zodiac easily assimilates new knowledge. Pragmatic and meticulous, the person born during the solar calendar period of Virgo is sometimes overly cautious in his relationship with others.
A great psychologist of the human psyche, he can be cunning and manipulative at will, which in return makes him wary of being deceived.
If he knows how to be diplomatic, don't expect much room for sentiment from him, as his capacity for love or devotion has to be strongly related to logics or planning.
At ease in society, the person born while the Sun crosses the constellation of Virgo knows perfectly the virtues of discretion and helpfulness. Not necessarily born to become a leader, his capacity for intense and prolonged efforts is always an asset that should benefit to him as much as to his close ones.
Virgo lucky numbers and colors
Lucky number: 7
Lucky color: grey
Virgo love compatibility
Virgo is the most compatible with Taurus, Capricorn and Virgo.
The Western zodiac sign of Virgo is the closest to the Chinese zodiac sign of the Rooster (Chicken). Indeed, the lunar calendar dates of the Month of the Rooster correspond roughly to the solar calendar dates of the zodiac sign of Virgo.
On an individual level, if you want to know the personality of Virgo with the character of your Chinese zodiac sign, check if necessary your Chinese zodiac sign with the free calculator and click on the link below that best suits you.

Ideal jobs for Virgo
Teacher, accountant, librarian, mathematician, chemist, salesman, servant, doctor, designer, pharmacist
Celebrities - Famous Virgo and eminent personalities
Famous Virgo celebrities include: Armand Jean du Plessis cardinal de Richelieu, Louis XVI of France, Antoine Lavoisier, Beyoncé Knowles, Shinzo Abe, John McCain, Jane Addams, Lauren Bacall, Agatha Christie, Ingrid Bergman, Yasser Arafat, Jorge Luis Borges, Lyndon Johnson, Warren Buffet, Tim Burton, Stella McCartney, Moby, Louis C.K., Greta Garbo, Gene Kelly, Sean Connery, John Dalton, Gloria Estefan, Jimmy Fallon, David Fincher, Jeremy Irons, Hugh Grant, Tom Hardy, Jennifer Hudson, Tommy Lee Jones, Pink, Shania Twain, Bernie Sanders

Zodiac birthstones of Virgo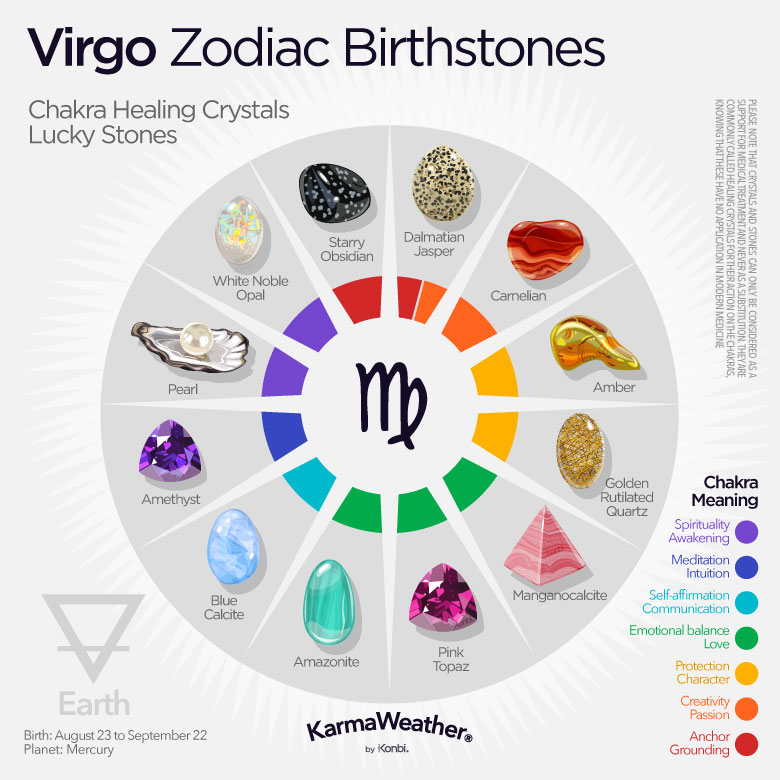 What essential oils are good for Virgo?
© KarmaWeather by Konbi | Copyright protection: Reproduction forbidden. Any infringement will be subject to DMCA request | Disclaimer notice: Use of medicinal plants should be discussed with a physician, especially for pregnant / breastfeeding women or children. Stones / crystals have no application in modern medicine and can't replace medical treatment.