Aries zodiac sign - Dates, Personality, Compatibility
♈ Aries horoscope - Aries dates of birth, personality traits, love compatibility, lucky numbers, colors and zodiac birthstones
By KarmaWeather - 5 November 2016
© KarmaWeather by Konbi - All rights reserved
Aries dates of birth range: the Sun crosses the zodiac constellation of Aries from March 21st until April 20th
Symbol: The Ram
Element: Fire
Planet: Mars
Aries zodiac birthstones by date: If you were born between between March 21st and April 20th, your Aries lucky stone names are Alexandrite, Almandine Garnet, Carnelian, Clear Quartz, Dalmatian Jasper, Diamond, Eudialyte, Fire Agate, Rainbow Fluorite, Ruby, Tiger Iron, Watermelon Tourmaline
House (constellation) of Aries
Zodiacal House number: 1
Astrological House in opposition with Aries: 7 (Libra)
Meaning of the House of Aries: "I am", the mirror of oneself, the beginning, the spirit of enterprise and initiative, passion and courage. In world astrology, the House of Aries concerns the sense of social and political responsibilities and public health care.
Aries personality traits and qualities
The person born under the protection of the sign of Aries has the soul of a leader. Intelligent, reckless and proud, the man or woman born under the crossing of the Sun with the constellation of Aries seems unable to work for other people than himself or herself.
Full of energy and charismatic, his actions often lead him into trouble and sometimes violent situations. Heroic or foolish depending on who's judging their behavior, nobody could be braver than someone born during the period of Aries in the solar calendar.
Aries, being the first sign of the Western zodiac, is also traditionally related to the starting point of actions, adventures and discoveries. However, his desire to move on and conquer is sometimes so strong that he easily forgets to build up from his energetic initiatives.
Even though the head is the part of the body that governs the sign of Aries, careful planification is not one of his main qualities. Both managing his finances and saving money are also quite of a challenge for the zodiac sign of Aries.
Aries lucky numbers and colors
Lucky number: 5
Lucky color: red
Aries love compatibility
Aries is the most compatible with Leo, Sagittarius and Aries.
The Western zodiac sign of Aries is the closest to the Chinese zodiac sign of the Dragon. Indeed, the lunar calendar dates of the Month of the Dragon correspond roughly to the solar calendar dates of the zodiac sign of Aries.
On an individual level, if you want to know the personality of Aries with the character of your Chinese zodiac sign, check if necessary your Chinese zodiac sign with the free calculator and click on the link below that best suits you.

Ideal jobs for Aries
Lawyer, doctor, vet, adventurer, engineer, dentist, butcher, interpreter, athlete
Celebrities - Famous Aries and eminent personalities
Famous Aries celebrities include: Catherine de Medicis of France, Anthony Van Dyck, Bette Davis, Diana Ross, Adrien Brody, Alec Baldwin, Alec Guiness, Ayrton Senna, Benito Juarez, Céline Dion, Emma Watson, Claire Danes, Aretha Franklin, Austin Mahone, Alek Wek, Bismillah Khan, Jane Goodall, Vivienne Westwood, Jair Bolsonaro

Zodiac birthstones of Aries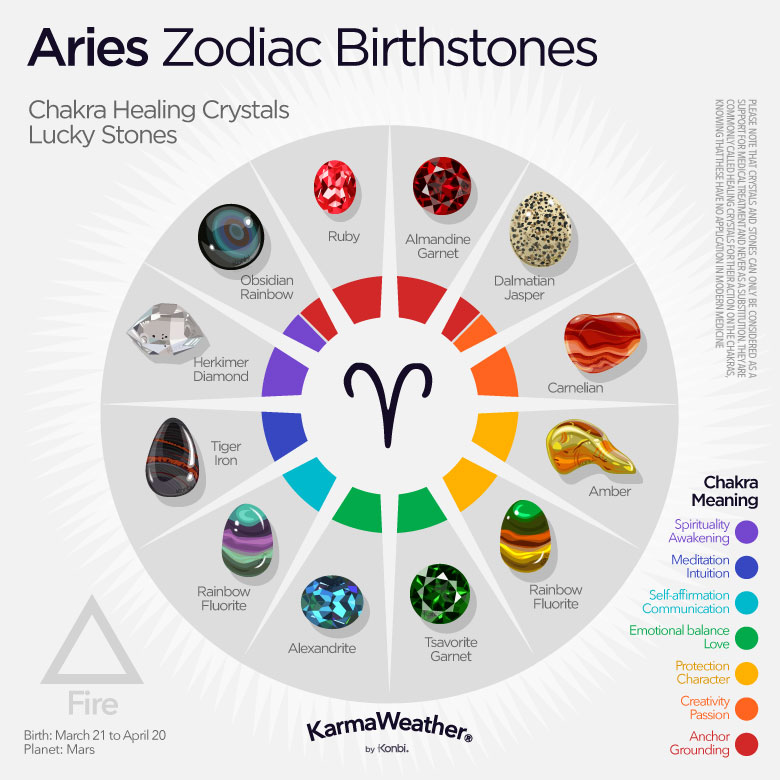 What essential oils are good for Aries?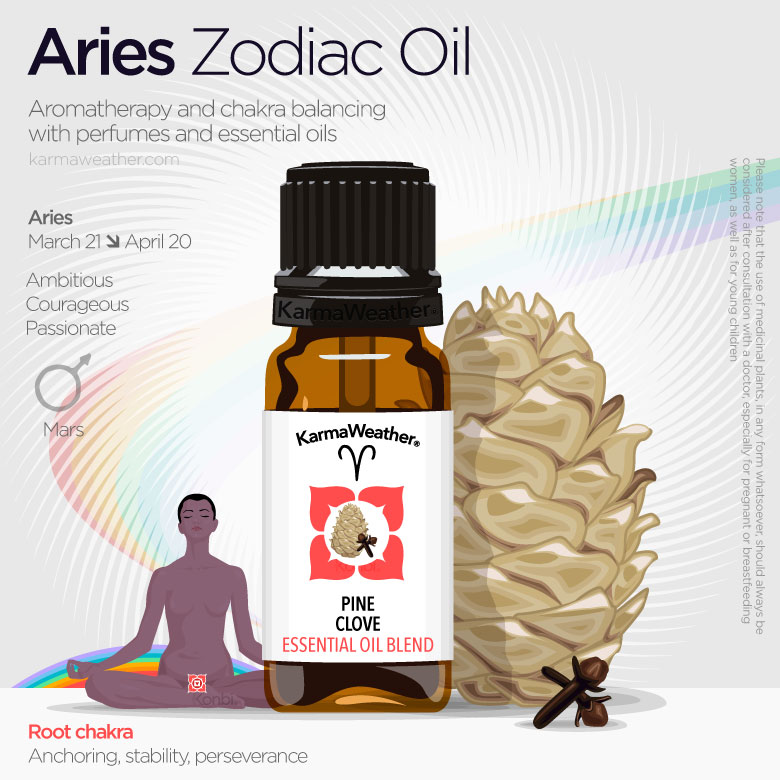 © KarmaWeather by Konbi | Copyright protection: Reproduction forbidden. Any infringement will be subject to DMCA request | Disclaimer notice: Use of medicinal plants should be discussed with a physician, especially for pregnant / breastfeeding women or children. Stones / crystals have no application in modern medicine and can't replace medical treatment.